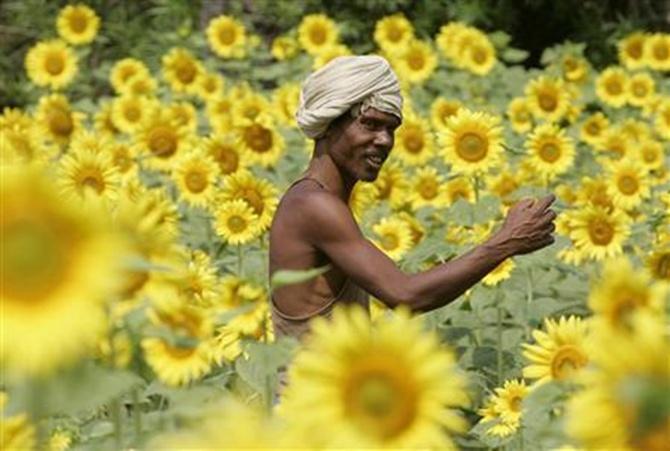 The agriculture sector is likely to grow in the range of 5.2-5.7 per cent in 2013-14, nearly three times more than the last year as good monsoon has raised the prospects of bumper harvest, a CACP discussion paper said.
It warned however that "automatic" cascading of bumper harvests to increase the economic activity may not be realised unless the policymakers play the facilitator role well.
The farm sector had grown at 1.9 per cent last fiscal. "Comparing these likely agri-GDP growth rates in 2013-14 agriculture year (July-June) with the 2012-13 performance, it
turns out that agri-GDP growth is likely to be about three times higher than last year," said a discussion paper co-authored by CACP chief Ashok Gulati.
The farm growth is expected to be in the range of 5.2-5.7 per cent this year because monsoon showers have been one of the best in the country has experienced during the last two decades or so, it said.
Gulati, in his personal capacity, said in the discussion paper, "Farm growth is likely to come largely from oilseeds, pulses, cotton and coarse cereals belt of central and western parts of India, which is less irrigated and thereby more dependent on rains."
The Commission for Agricultural Costs and Prices (CACP) is a statutory body under the Agriculture Ministry which advises the government on price policy for major farm commodities.
Noting that higher agri-GDP growth is likely to boost the overall performance of the economy via its multiplier effect, the paper said that farm income may rise by 15 per cent in nominal terms, triggering some increased demand for agri-inputs to durable and FMCG goods in rural areas.
However, the virtuous cycle of economic growth may just be a distant dream unless the necessary condition of increasing rural or farm incomes is realised, it said.
Suggesting that the government prepare well for a big harvest, the paper said it should liquidate at least 20 million tonnes of foodgrains in the domestic market or for exports without compromising on the needs of Food law.
Clearing excess stock for new crop will help contain food inflation and also save on high carrying costs of grains and thus reduce fiscal deficit, it said.
Second, the paper suggested de-listing of fruits and vegetables from Agricultural produce market committee (APMC) Act and incentivise processors and modern retailers to buy directly from farmers
"This would compress their value chains benefiting both consumers and producers, saving on large wastage, and further bringing down food inflation," the paper said, adding that once food inflation is down, subsidies on fuel and fertilisers can be cut more aggressively reducing fiscal deficit.
Third, the paper recommended that the government facilitate and create conducive international trade rules and policies so as to hedge farmers against falling domestic prices, because of increased supplies.
© Copyright 2023 PTI. All rights reserved. Republication or redistribution of PTI content, including by framing or similar means, is expressly prohibited without the prior written consent.