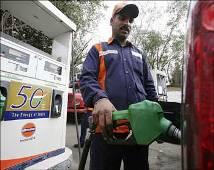 Losses on sale of diesel and cooking fuels by oil public sector units have almost halved following a sharp dip in international oil rates and strengthening of rupee.

Oil PSUs, which at the beginning of the fiscal were losing Rs 670 crore (Rs 6.7 billion) per day on selling diesel, domestic cooking gas LPG and kerosene at government controlled rates, are now losing Rs 372 crore (Rs 3.72 billion) a day, industry sources said.

International oil rates have cooled off from $120 per barrel to less than $97 a barrel currently, while rupee too has strengthened after dipping to all-time low of below Rs 57 to a dollar.

Losses on diesel, the most consumed fuel in the country, have come down from a record Rs 16.16 a litre to Rs 10.33 per litre.

Losses on kerosene has dipped to Rs 28.56 per litrefrom Rs 32.06 per litre and those on domestic LPG declined from Rs 570.50 per 14.2-kg cylinder to Rs 319.

Indian Oil Corp, Bharat Petroleum and Hindustan Petroleum calculate the desired retail selling price of diesel on 1st and 16th
of every month based on the average price of its international benchmark. LPG and kerosene rates are calculated on a monthly average on 1st of every month.
Sources said the three firms are projected to lose Rs 149,032 crore (Rs 1,490.32 in revenue this fiscal, down from Rs 208,059 crore (Rs 2,080.59 billion) loss estimated at the beginning of the fiscal.
Oil Ministry has been seeking a meeting of a high-powered ministerial panel to revise rates of diesel, domestic LPG and kerosene for the first time in a year.
Sources said the three oil firms had in 2011-12 fiscal lost Rs 138,541 crore (Rs 1,385.41 billion) on selling diesel, domestic LPG and kerosene at government-controlled rates that were way lower than market price.
Of this, the government made good Rs 83,500 crore (Rs 835 billion) by way of cash subsidy while another Rs 55,000 crore (Rs 550 billion) was provided by oil and gas producers Oil and Natural Gas Corporation, Oil India Limited and GAIL.
If the current trend continues, the revenue loss for the current fiscal is likely to come down below 2011-12 levels soon.
© Copyright 2023 PTI. All rights reserved. Republication or redistribution of PTI content, including by framing or similar means, is expressly prohibited without the prior written consent.