Experts recommend buying gold as the fundamentals supporting a rally have not changed.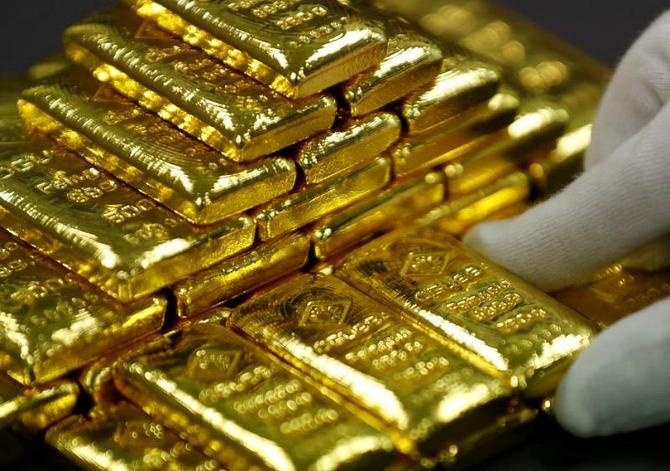 The price of gold has fallen about 10 per cent over the past 50 days.
At one point, gold price on the MCX was down about Rs 7,000 per 10 gram.
Prices in the international market are still elevated as there was a $300 per ounce spurt in July and the subsequent fall was a little over $200 per ounce.
This fall, however, is being seen as an opportunity to buy for those investors who missed out on the earlier rally.
The rise of the dollar, improvement in yields, US stimulus delay, the US Federal Reserve's decision to not push rates into negative territory, and fears of a third wave of Covid-19 have led to traders selling all assets, including equities and gold, and buying the dollar ahead of the elections in that country.
Experts recommend buying gold as the fundamentals supporting a gold rally have not changed.
Chirag Sheth, principal consultant, India and South Asia, at London-headquartered research firm Metal Focus, said: "The volatility in the gold market will continue over the next few months with the run-up to the US elections, increase in Covid cases and the second wave of lockdown.
"However, the risk-reward ratio is favourable on the upside. The fundamental scenario has not changed drastically in last few months and continues to remain supportive of higher prices."
Others, too, concur with this view.
Cameron Alexander, director of precious metals research at Refinitiv, London, said, "The impact of Covid-19 on physical demand is expected to dissipate over the course of the year as countries slowly win the battle over the virus, retail investment jumps 15 per cent as investors look to gold for its safe haven appeal.
"After easing, ETF demand is expected to rise again towards the year end, with well over 1,000 tonnes of fresh inflows forecast for 2020."
Jewellery demand, however, will be hit hard, and is forecast to slump over 40 per cent this year.
Cameron even sees the possibility of gold moving beyond $2,100 per ounce later in the year.
Retail investors' interest in gold has been good this year, except for the past month, when prices were volatile. However, when investors buy sovereign gold bonds, it doesn't help physical markets.
SGB is only a financial instrument denominated in gold price.
Debajit Saha, senior analyst, precious metals at Refinitiv, said: "The current sell-off in precious metals is basically the impact of a broader sell-off across the asset class. Precious metals will bounce back. Gold will again lead the show."
However, he feels that though gold prices will recover from the fall they might struggle to reach a record high again this year.
Retail investors must exercise extreme caution while trading in silver as volatility might wipe out any recent gains, he said.
Bullion analysts at Nirmal Bang, too, advise going long on gold and silver as the correction has already taken place in India.
Prithviraj Kothari, national president, Indian Bullion and Jewellers Association, said, "Buyers don't have liquidity to purchase new gold. Some demand may be seen from rural sector."
In the physical market, traders are offering gold at a Rs 500 per 10 gram discount, compared to the cost of import.
Market players say old gold is still being sold at a lower price, which has put pressure on the official physical market price.
Photograph: Leonhard Foeger/Reuters