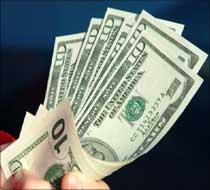 Investment banker Morgan Stanley and other underwriters of Facebook Inc have made a profit of about $100 million stabilising the social networking site's stock since it hit the capital market last week, says a report by Wall Street Journal.

As the lead underwriter responsible for Facebook's IPO, Morgan Stanley, would receive the largest chunk of those profits arising from stabilising Facebook's stock price, the report said citing a person familiar with the matter.

The bank would receive the money on top of millions of dollars in IPO fees, the report said.

Facebook has lost over 16 per cent since it got listed on the Nasdaq exchange on Friday. After closing only a shade above the offer price of $38 on Friday, the stock closed with a loss of 11 per cent plunge on Monday. On Tuesday, shares of Facebook dropped another 9
per cent.
At the offer price of $38 apiece, the social network's share sale was over-subscribed and the firm was valued at $104 billion.
However, Facebook's current market value stood at around $68.42 billion.
The underwriters made the bulk of the profit in Monday's trading when they bought shares below the $38 offering price, the report said citing sources.
The report said underwriters bought from Facebook the offering's 421,233,615 shares, but sold into the market 484,418,657 shares.
Doing so made the underwriters "short" 63,185,042 shares.
The underwriters are given the option to buy the over-allotment of shares from the company at a discount.
In IPOs that trade higher, the underwriters will often choose to exercise their options for the overalloted shares at a discount to the IPO price, booking a profit on the difference, usually about one per cent.
© Copyright 2022 PTI. All rights reserved. Republication or redistribution of PTI content, including by framing or similar means, is expressly prohibited without the prior written consent.