The Obama Administration on Wednesday stressed on the need to extend an Afghanistan- Pakistan transit trade agreement to India, asserting this will transform the economic dynamics of the region.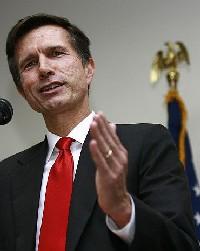 "Opening transit trade to India would be transformative, because India is going to be such an important economic anchor for the region in the 21st century," Assistant Secretary of State for South and Central Asia Robert Blake said.

"The Indian and Pakistani commerce secretaries have been engaged in very important talks over the last several months to try to increase the volume of direct trade between their two countries that goes across the Wagah border," Blake said in his remarks at a seminar on 'Looking Ahead: US-India Strategic Relations and the Trans-Pacific Century' at the School of Advanced International Studies (SAIS), Johns Hopkins University.

Referring to the 'New Silk Road' vision of Secretary of State Hillary Clinton, Blake said this is a shared commitment to promote private-sector investment, increase regional trade and transit and foster a network of linkages throughout the region to build up the Afghan private sector and create a stable and prosperous Afghanistan within a stable and prosperous region.

"The Afghan government put forward a vision for its economic future based on increased private sector investment and expanded regional trade and integration," he said.

"This vision builds on many efforts already underway. For example, Afghanistan and Pakistan have agreed to a transit trade agreement and to implement that and extend it to Central Asia," Blake said.

"Ultimately,
everyone hopes transit trade to India can be opened as well so that products from Afghanistan or from any of the Central Asian countries could transit through Pakistan and into India, Bangladesh and even beyond," he said.
Blake said another very important priority is to try to expand regional energy infrastructure.
"Already, with the leadership of President Berdimuhamedov of Turkmenistan, the countries of Turkmenistan and Afghanistan and Pakistan and India have made quite important progress on the TAPI pipeline, which would bring natural gas from the fields of Turkmenistan to the energy markets of India, which, again, are growing very rapidly," he said.
"It would also bring very important transit revenues for Afghanistan and Pakistan," he added. The International Afghanistan Conference in Bonn on December 5, 2011, will be a key opportunity for the government of Afghanistan, its neighbours and the broader international community to address how the international community can strengthen economic cooperation to comprehensively address the opportunities the New Silk Road presents, he noted.
"Just as India will be an anchor of the New Silk Road vision, an India more integrated with the markets of the Asia-Pacific and one more engaged in Asia-Pacific security issues will benefit the region and Asian multilateral fora," Blake said.
This might entail India seeking an increased role in the East Asia Summit, elevating and further deepening its interaction with ASEAN, and developing further political relations with East Asia that match India's vibrant trade and investment growth in the region, he added.
Image: Robert Blake |  Photohgraph: Reuters