The figure is based on the base price of spectrum for the upcoming auction fixed by the TRAI and on the assumption that there will be no bidding war.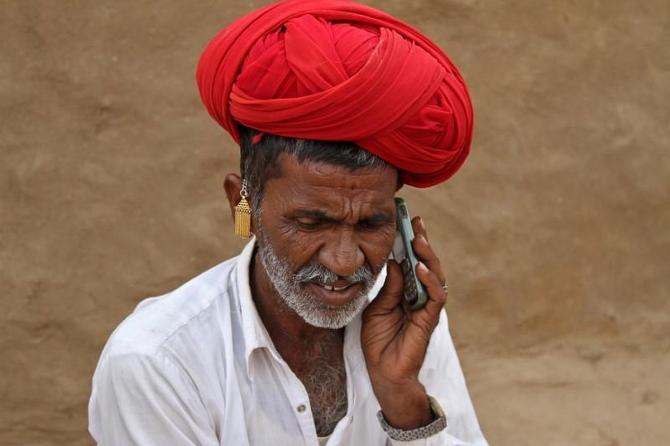 The country's top three telecom companies (telcos) will have to spend a minimum of around Rs 44,000 crore merely to replace the spectrum they hold, directly or through sharing, and which expires next year.
With the government getting 25 per cent of the money upfront, this constitutes one-third of the estimated industry earnings before interest, tax, depreciation, and amortisation of Rs 33,981 crore, based on Cellular Operators Association of India estimates for 2019-20.
The figure is based on the base price of spectrum for the upcoming auction fixed by the Telecom Regulatory Authority of India and on the assumption that there will be no bidding war.
As much as over 153 megahertz (MHz) of spectrum, constituting around 7 per cent of the total spectrum holdings of Reliance Jio, Bharti Airtel, and Vodafone Idea (Vi), will expire next year.
This does not include Jio's spectrum-sharing agreement with Reliance Communications (RCom) for 37.5 MHz of spectrum in the 800-MHz band, which will also expire in 2021 and will need to be replaced.
Right now, the final details of the spectrum auction are awaiting Cabinet approval. The auction has already been delayed.
There will be no auction of 5G spectrum.
If all the spectrum on offer, including 5G, was sold by the government based on the base price, it would have made over Rs 5.86 trillion.
While the windfall might be good news for the government looking for money (it gets 25 per cent upfront), operators are expected to fork out much more.
Most of them are also expected to buy additional spectrum, beyond what they have to replace, primarily because of the growing data demand, which is already putting pressure on the networks.
The quality of data speeds and network capacity are under serious stress.
India is ranked 127 amongst 138 countries with average mobile data speeds of a mere 12.15 megabits per second (Mbps).
This is a third of the average global speed (34.51 Mbps), according to the latest data from Ookla, the company behind Speedtest which tests internet speed.
Yet data usage in the country per subscriber has shot up 40 per cent in the first quarter of 2020-21 over the same quarter the previous year.
As much as 70-85 per cent of the network capacity is already being used to cater to the growing demand.
More spectrum, in short, is the need of the hour.
Jio has the least spectrum among its competitors, a mere 18 per cent share (553 MHz) of the total industry spectrum.
This is far lower than its two competitors. Vi has a 30 per cent share of the overall spectrum and Airtel has 28 per cent.
Further, Jio has made the least investment in spectrum, according to Morgan Stanley.
It estimates that only 18 per cent of Jio's total investment of $50 billion in building its network has gone into spectrum.
In contrast, 44 per cent of the $44-billion that Vi has invested has gone into spectrum alone.
The spectrum which Jio used under a trading agreement with RCom (which includes the circles of Delhi, Karnataka, and Maharashtra - 3.75 MHz - and Kolkata - 5 MHz) will expire next year.
Also, the spectrum which Jio had under a sharing agreement with RCom will expire next year and will have to be replaced.
They are all in the 800-MHz band.
For Airtel, around 6.6 per cent of its spectrum holdings will expire next year, mostly in the 900-MHz and 1,800-MHz bands.
These include 1,800-MHz spectrum in the lucrative circles of Mumbai as well as Maharashtra.
The company that has the maximum amount of spectrum among its rivals, Vi, will have 1,800-MHz spectrum in Delhi and Karnataka coming up for expiry.
The spectrum held by Vi and Airtel, which has come up for renewal, was under the administered price and not based on a full auction.
Interestingly, Jio's investment strategies have been at variance with its rivals.
While it might have invested the least in percentage terms in spectrum, it is far ahead in its tower and fibre infrastructure.
The two are important because connecting towers with a fibre optic backbone, instead of microwave which is used by the other two companies for the bulk of their towers, enhances data capacity and speed.
The more towers you have, the better the coverage and the quality.
This is where Jio scores over its rivals.
Morgan Stanley estimates that it has laid 1.1-million fibre route kilometres.
In comparison, Airtel has a third of this and Vi only one-seventh.
Similarly, while Jio has a network of over 750,000 base transceiver station towers, Airtel has only 507,000 and Vi even fewer at 446,000.
But Jio also has the highest 4G customer base at 398 million subscribers, which is greater than the subscriber base of Airtel and Vi combined.
Photograph: Himanshu Sharma/Reuters