India lost its competitive advantage as China gave fiscal benefits to its local manufacturers. Besides, recent policy flip-flops have, however, dented India's image as the 'pharmacy of the world'.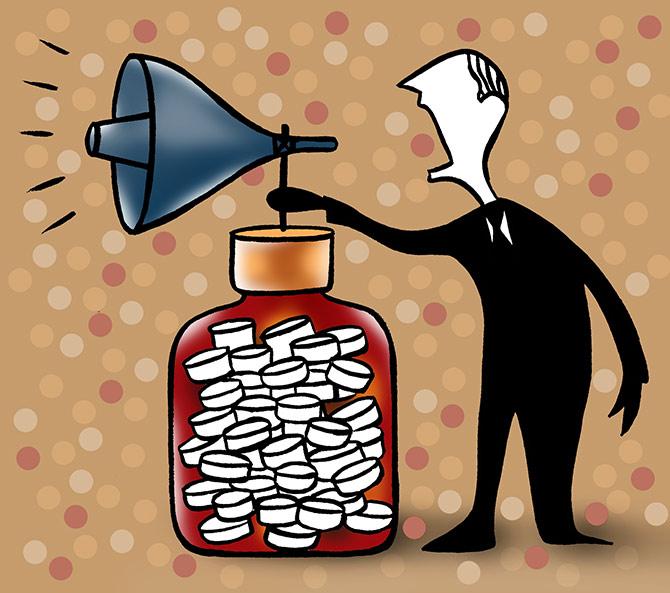 India supplies almost 20 per cent of the medicines consumed by the world. Every third tablet in the US market is from India.
Recent policy flip-flops have, however, dented India's image as the 'pharmacy of the world'.
Industry sources reveal that Indian embassies in Europe, Africa, and other Asian countries have been fire-fighting and reassuring them of no future supply disruptions.
"In the past one and a half month, we have improved our exports and the government, too, has relaxed curbs on exports.
"A lot of damage control has been done," said an industry source.
He added that pharma exports have, in fact, picked up in April-May.
An Indian exporter with a basket of 500 products to over 50 countries said the US Food and Drug Administration had reached out to the Central Drugs Standard Control Organisation to discuss threadbare the sudden restrictions of exports of key products.
The demand for antibiotic Azithromycin had surged 3x in the US in recent months from pre-Covid levels.
US President Donald Trump's Administration awarded a contract worth up to $812 million over 10 years to a newly incorporated US company called Phlow Corporation to make drugs and active pharmaceutical ingredients (APIs) in the US to fight Covid-19.
On its website, Phlow has said more than 80 per cent APIs (used in US) are produced overseas and that manufacturing of generic drugs in the US is vulnerable to disruptions in foreign drug supply chains.
A source in a government agency said most countries are thinking on the lines of reducing their dependence on other countries and their policy fluctuations.
India first restricted exports of some key antibiotics, paracetamol, hydroxychloroquine (HCQ), as supplies of APIs from China got affected.
More recently, due to stringent scrutiny of import consignments from China, APIs were being held up at Indian ports.
This, in turn, affected exporters facing delays in getting raw material.
The source explained, "Countries like Nigeria now want India to invest in their country.
"Similarly, Russia, too, changed its policy and is giving priority to indigenous manufacturers.
"Vietnam, too, is coming up with a policy to boost local manufacturing.
"The Covid-19 crisis has pushed them to develop their own capabilities.
"Even countries like Nepal don't want to import products like paracetamol and make these basic medicines locally."
He claimed Nepal does not wish to encourage import of any product that it can manufacture locally.
Similarly, the industry claims that if someone wants to export to Indonesia, one has to assure the kingdom it will start making the product there after five years.
The domestic industry, too, has requested the government for policy stability.
"Every country is trying to focus on ensuring health care security.
"However, unless there is competitive advantage, it would not make sense.
"So they will need to import products where they do not have local strength of manufacturing," said Sudarshan Jain, secretary general of the Indian Pharmaceutical Alliance, the lobby group of India's top 25 pharma companies.
Together these companies constitute 85 per cent of India's exports and around 60 per cent of the domestic market.
Jain said India lost its competitive advantage as China gave fiscal benefits to its local manufacturers.
"The government is trying to reduce its dependence on China and build the local API industry.
"This would take a few years and we should maintain policy stability till then.
"We should be in a position to export uninterrupted," he added.
A Mumbai-based pharmaceutical exporter confirmed there have not been any cancellations of consignments.
"The government has now relaxed the export curbs and that has helped.
"In fact, we see some of our clients trying to build an inventory," said Pranabh Mody, president of JB Chemicals and Pharmaceuticals.
Right after the logistics disruption stated sorting, Indian pharma exports had picked up in April and May after falling in the previous two months, as consignments started moving.
According to the data from the Pharmaceutical Export Promotion Council (Pharmexcil), exports have grown 17.32 per cent on a year-on-year basis.
"Exports that could not move due to channel issues or restrictions on exports moved in May.
"Items like HCQ, paracetamol, which were on the restricted list, could move seamlessly.
"The reason being a high growth in May," said Uday Bhaskar, director general, Pharmexcil.