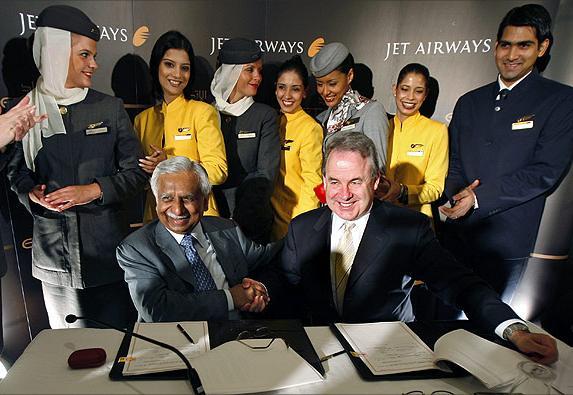 Image: Jet Airways Chairman Naresh Goyal (L) and James Hogan (R) of United Arab Emirates Etihad Airways shake hands while signing the stake sale deed. Photograph: Punit Paranjpe/Reuters
Etihad Airways invested nearly Rs 2,000 crore (Rs 20 billion) in Jet Airways aimed at cornering a large share of the 40 million Indians travelling abroad every year, the Gulf carrier's CEO James Hogan has said.
"One of the reasons we invested in Jet Airways market internationally 40 million people travel each year. For us we are the smallest of the three Gulf carriers and remain the smallest of the three Gulf carriers," Hogan said during a panel discussion as part of the IATA's 71st Annual General Meeting here this week.
It was in April 2012 that Abu Dhabi-based Etihad acquired 24 per cent stake in Jet Airways for close to Rs 2,000 crore (Rs 20 billion).
At the time when the deal was being finalised, Jet officials merely spoke about making Abu Dhabi its gateway to fly Indians to places in Europe and North America, among others.
Since the agreement was concluded, not only has Etihad increased the frequency of its flights to India but Jet Airways has also started operations from several new cities in India to Abu Dhabi and beyond.
Neither Hogan nor Jet promoter Naresh Goyal took any questions on this issue or anything about the progress made in their tie-up.
Since the deal was announced Hogan and Etihad Chief Financial Officer James Rigney have been appointed as additional directors at Jet.
In March this year, Jet Airways was given permission by the Government to start dedicated freighter services using two aircraft wet-leased from Etihad.