Eyes 50% growth in Vizag cargo in FY18 post modernisation; posted 25% growth in cargo in FY17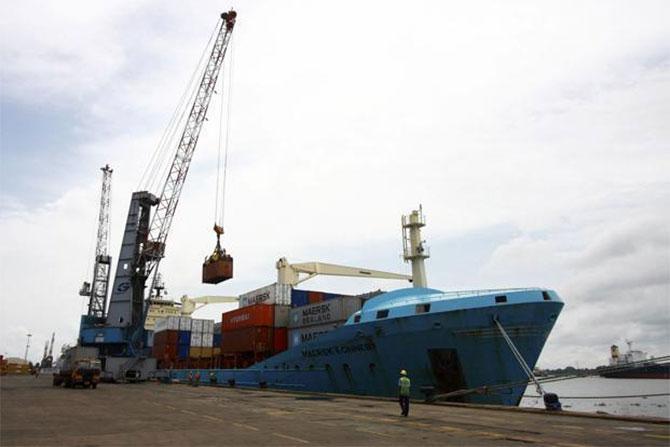 Essar Ports Ltd, a leading ports operator in the country with a capacity of 140 million tonnes per annum (mtpa), is planning to build a Rs 10,000-crore greenfield commercial port at Dwarka in Gujarat, a senior company official has said.
Besides, with the modernisation project at its Visakhapatnam port expected to be completed by September, the company expects 50 per cent growth in cargo from this port.
Chief executive officer and managing director Rajiv Agarwal confirmed the company has signed a memorandum of understanding (MoU) with the Gujarat Maritime Board (GMB) which administers and regulates the 41 state-owned non-major ports of Gujarat, during the Vibrant Gujarat Summit this January.
"We signed a MoU during the summit in this regard. Work on a detailed project report is on. We are now working on approvals for the project, which might take some time," he told Business Standard. An investment of more than Rs 10,000 crore (Rs 100 billion) is planned for the project, which would employ an estimated 1,000 people.
This would be Essar's first commercial port in India, as it currently operates ports which are largely for captive cargo. In India, it currently operates five ports at Hazira (Gujarat), Paradip (Odisha), Visakhapatnam (Andhra Pradesh), Salaya (Gujarat) and Vadinar (Gujarat).
In fact, Essar's port terminals recorded a 25 per cent growth in cargo traffic in FY17. Consolidated cargo handling across the company's five operational ports rose to 72.86 million tonnes in FY17, compared to 58.27 million tonnes in the previous financial year.
What is significant is that third-party traffic grew by 60 per cent. Agarwal said third-party cargo is expected to go up further in FY18.
With modernisation work at Vishakhapatnam estimated to get over by September, the company expects to achieve a 50 per cent growth in cargo traffic there.
"The present terminal is 25 years old. After modernisation, Vishakhapatnam would be able to handle 7,500 tonnes per hour cargo (or around 100,000 tonnes per day) and also handle an 180,000-tonne capesize vehicle. From eight million tonnes last financial year, by conservative estimates, we expect it to handle around 12 million tonnes in FY18," Agarwal said.
Meanwhile, in FY17, Essar's dry bulk cargo growth has been strong, registering 52 per cent growth at 30.39 million tonnes (mt) compared with 19.97 mt in FY16. The anchor customer of Essar Ports' dry bulk terminals at Hazira, Paradip and Visakhapatnam is Essar Steel.
Agarwal said with steel production in the country going up, the dry bulk cargo at the ports (mainly iron ore) has grown significantly.
The company is in the process of expanding the 30-mt Hazira Bulk Terminal to 50 mt and the 16-mt Visakhapatnam terminal (which handles iron ore and pellets for Essar Steel, NMDC and other major steel players) to 32 mt.
On the liquid cargo front, Essar's Vadinar terminal recorded a growth of 11 per cent and recorded a throughput of 42.47 mt in FY17.
As such Essar's 140 mtpa capacity will be expanded to 194 mtpa over the next few years.
Photograph: Reuters