ASK Wealth Advisors says 5 million, CMIE's estimate is 2 million and Ghosh & Ghosh said it was 7 million!
Illustration: Uttam Ghosh/Rediff.com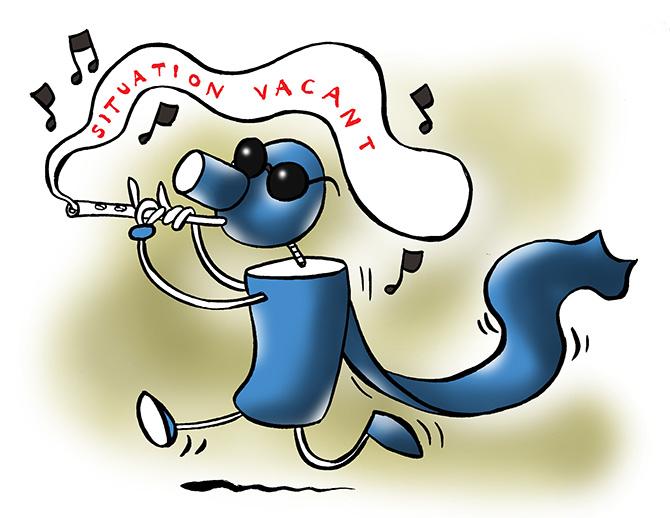 Amid debate over employment generation in India, wealth management firm ASK Wealth Advisors estimated that around five million jobs were created in the non-farm sector in 2017.
The ASK figure is higher than the Centre for Monitoring Indian Economy's (CMIE's) estimate of 2 million job creations for entire economy in 2017, but lower than the estimation by Ghosh & Ghosh (State Bank of India chief economist Soumya Kanti Ghosh and Indian Institute of Management-Bangalore professor Pulak Ghosh).
Based on Employees' Provident Fund (EPF) subscribers, Ghosh & Ghosh had estimated 7 million jobs in the formal segment of the non-farm sector in 2017-18.
Prime Minister Narendra Modi had said 4.5 million new subscribers had joined the EPFO, of which 77 per cent were less than 28 years of age, in the nine months between September 2017 and May 2018.
Estimates by ASK were not as rosy as what was presented by the PM.
"Actual employment creation in the country is neither as gloomy as only 2 million annual job creation in the whole economy, a conclusion based on traditional employment surveys, or as hopeful as 5-7 million jobs only in the "formal" part of the non-farm sector as recent EPFO-based estimates would seem to suggest," said Somnath Mukherjee, managing partner, ASK Wealth Advisors.
The new study attempted to come out with an estimate of employment using three different sources.
It employed data on commercial real estate sector to enable them to come up with estimates of employment being created in the urban offices (UO).
However, most of the new jobs were created in the employment intensive sectors in non-offices such as the factories in the manufacturing sector, construction sites, retail spaces, hospitality, educational and medical facilities (FRESHH), said Mukherjee.
To estimate this segment, ASK relied on the quarterly estimate of employment (QES) by the Labour Bureau.
Finally, data from the industry was tapped to arrive at estimates of people employed "on the go" (OTG) -- broadly covering the employment in e-commerce, transport, logistics, and warehouse sectors.
Using these sources, ASK estimated that the new additions to employment only through UO was 0.9 million in 2017.
There was a strong correlation (62%) of current year's real gross domestic product (GDP) growth with the job creation of the next year in the UO segment.
Another up to 3 million jobs were created in the non-offices (FRESHH) sectors.
Finally, another close to a million people were estimated to be employed "on the go" (OTG) sectors, according to the estimates.
When asked how would ASK estimate employment in FRESHH if the labour bureau stopped quarterly employment survey, Mukherjee said they would use EPFO payroll survey but only when it stablised.
A panel under former chief statistician TCA Anant is reviewing the quarterly survey.
The EPFO payroll survey gives lots of duplication, he said, adding the office had taken several measures to drive employees to enrol themselves.
The numbers thrown up by the payroll figures include this bump up, he said.
As such, the figures given by Ghosh & Ghosh were over-estimated, he said.
Also, the picture is not as dismal as was portrayed by CMIE.