Gross inflows into active equity mutual fund (MF) schemes dipped 34 per cent month-on-month (MoM) -- to Rs 25,400 crore -- in April as investors applied brakes on lump sum investments amid a sharp upwards movement in the market.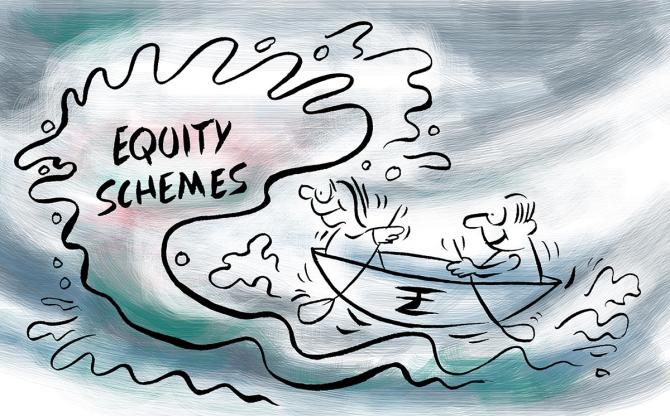 Gross inflows for March stood at Rs 38,641 crore.
The sharp decline pulled the net inflows to a five-month low of Rs 6,480 crore, shows data released by the Association of Mutual Funds in India (Amfi).
In March, the net inflows had scaled to a 12-month high of Rs 20,500 crore.
"Given the sharp uptick in the markets seen recently, investors may have chosen to be on the sidelines and wait for a more opportune time to invest into equities," said Himanshu Srivastava, associate director, manager research at Morningstar India.
Last month happened to be the best month for equity markets since November with the Sensex and the Nifty50 gaining 3.6 per cent and 4.1 per cent, respectively.
The broader small-cap and mid-cap indices had gained nearly 8 per cent and 6 per cent, respectively.
Considering the dip in equity fund inflows, Amfi chief executive officer (CEO) N S Venkatesh advised investors to stay invested for the long-term.
"Investors must stay invested for the long term without getting swayed by market movements.
"Time spent in the market is the key rather than timing the market.
"Our campaigns also aim to create awareness about goal-based investing, investing for the long-term," he said.
While the net inflows across most active equity fund categories dipped MoM, small-cap and mid-cap schemes have continued to rake in higher sums from investors.
In April, small-caps attracted a net inflow of Rs 2,245 crore and mid-caps saw Rs 1,960 crore worth of investments.
In the 2022-23 financial year (FY23), investors had channelled a net of Rs 22,100 crore into small-cap schemes, compared to just Rs 8,370 crore into large-caps.
"Inflows in the small-cap category remained strong at Rs 22,100 crore, which was a continuation of recent trend.
"Small-caps look reasonably attractive at these levels after the price correction they went through during FY23," said Akhil Chaturvedi, chief business officer, Motilal Oswal AMC.
The inflows through the systematic investment plan (SIP) route, though, continued to remain unaffected by market movement.
The gross SIP inflows in April -- at Rs 13,727 crore – were in line with flows seen in recent months and just a tad lower than Rs 14,276 crore invested in March.
The Amfi CEO attributed the slight decline to 30th April being a Sunday.
As Sunday is a non-working day, the SIP flows that were to come on that day, will be accounted for in the next month's inflows, he said.
'Highest net inflows into debt funds since October 2020'
Investors poured in a net of Rs 1.07 trillion into active debt schemes in April, the highest since October 2020.
The last time the net flows into debt funds crossed the Rs 1 trillion was in April 2021.
The resurgence in flows, which remained in the red in most of FY23, comes at a time when debt funds were expected to see a decline in investor interest after the loss of indexation benefit.
However, the surge in flows does not mean that the tax change hasn't had any effect since most of the inflows came into shorter-horizon debt schemes, which are used by corporates and even retail investors to park cash.
Liquid funds alone recorded a net inflow of Rs 63,200 crore.
Money market funds and ultra-short duration funds also received over Rs 10,000 crore each.
The strong inflows into debt schemes, coupled with the growth in the equity market, pushed the average assets under management (AAUM) of the MF industry to Rs 41.5 trillion, up 3.7 per cent MoM.
The combined AAUM of popular retail categories (equity, hybrid and solution-oriented schemes) rose to Rs 20.9 trillion.
The SIP AUM, meanwhile, surged 5 per cent to Rs 7.2 trillion.
A total of 1.9 million new SIPs were registered during the month, shows Amfi data.