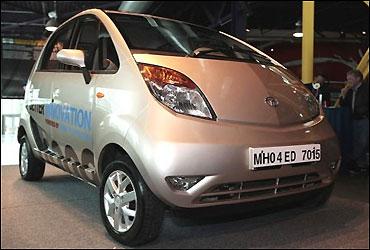 Sanand produced only 515 Nanos in January, and sold even less, just around 391 units.
As Sanand continues to make the Tiago, now expected to touch a production of 5,000 units a month, the flagship product of the site, the Nano has almost faded into the background.
Take a look at these numbers: Sanand produced only 515 Nanos in January, and sold even lesser, around 391 units.
Cumulatively, between April 2016 and January 2017 it produced 7,472 units, down 62 per cent from 19,686 units in the year before period. A total of 7,105 Nanos were sold during the April-January period in FY17, down 62 per cent.
An Ahmedabad-based dealer, who did not want to be named, said new launches from the company's stable, including the Tiago and now the Hexa have drawn considerable footfalls to the showrooms.
In fact, the company saw its sales surge 44 per cent to 1,04,395 units for the compact segment, which as per SIAM, includes the Indica, Indigo CS, Zest, Bolt and the Tiago.
"The enquiries about the Nano seemed to have slowed down. The AMT variant had triggered good response and even today there is demand for the AMT version as a second car in the family and amongst college students, however, there is no euphoria," he said.
When asked if there has been any communication from the company on whether the Nano was to be discontinued, the dealer said nothing immediate was on the cards. "There is some demand for the car in the taxi segment, and Tata Motors might just want to tap that," he added.
While the Nano had always struggled to pick up momentum, with the launch of automatic manual transmission (AMT) and other peppy city variants, sales had seen some revival signs in 2015. The GenX Nano that sports a power steering, stylish interiors and comes with an AMT variant, was launched in May 2015. Tata Motors ended FY16 selling 21,012 Nanos, up from 16,901 in FY15.
Sales, however, started falling after that and so far have not shown any signs of revival.
Will Tata now focus on high- margin-modest-volume cars instead of the Nano that was pushed as a low-margin-high volume car?
A company spokesperson explained, "As we have stated earlier, the hatchback segment is very important for us and the regulations and customer preferences are going to play a major role in defining various sub-segments within this segment. We already have a well-defined approved PV strategy in place that will look at not only the best way of addressing the segments' requirements but an overall perspective of the portfolio and you will see the action happening from our side."
Photograph: Reuters.