NHAI to pull plug on Rs 3,000-crore ventures for poor show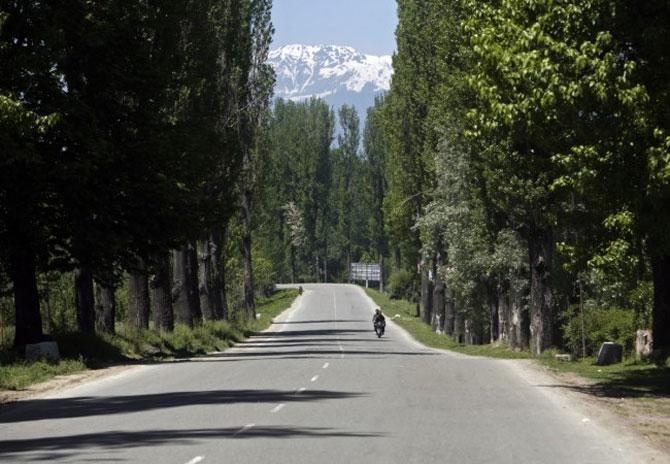 The government has decided to terminate three highway projects worth Rs 3,000 crore (Rs 30 billion) because of poor performance by contractors.
"We have decided to terminate three projects," said Raghav Chandra, chairman of National Highways Authority of India (NHAI) on the sidelines of the 24th annual general meeting of the American Chamber of Commerce in India.
The contracts to be terminated are for the Rs 410-crore (Rs 4.10 billion) Rohtak-Jind project in Haryana, the Rs 1,021-crore (Rs 1021 billion) Haridwar-Dehradun project in Uttarakhand and the Rs 1,650-crore (Rs 16.5 billion) Ranchi-Jamshedpur project in Jharkhand.
The Haryana project was awarded to Vijai Infrastructure on the build-operate-transfer (BOT) model. It began work in October 2013. NHAI suspects diversion of funds in this project.
The Uttarakhand project was awarded to a joint venture of the Era Group and Russian company OJSC-SIBMOST on the annuity model. Work began in November 2011. NHAI found the companies were unable to bring in the necessary funds in the stipulated period.
The Jharkhand project, in which work began in December 2012, was awarded to Madhucon Projects on the annuity model. NHAI suspects diversion of funds in this project as well. These three projects are part of 19 that were stuck for various reasons. In January, Highways Minister Nitin Gadkari and Finance Minister Arun Jaitley met developers and bankers to get them moving.
"We have given more time to a few other concessionaires (developers). I don't want to name them yet. We will take a decision on their projects soon," Chandra said.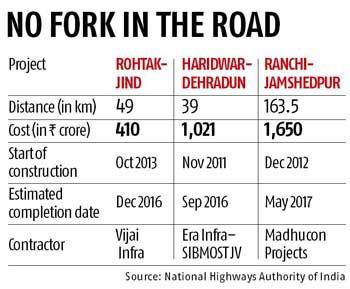 The government will soon hold another meeting to review the fate of the remaining 16 stuck highway projects. Contractors have been removed and blacklisted by NHAI earlier too. The reasons ranged from missing the deadline for financial closure and construction delays.
In his address, the NHAI chairman said while American companies have worked with the government as a consultant on many road projects, none have shown any interest in bidding for such projects.
Talking about the troubles faced by public-private partnership projects, he said private projects developers were still interested in undertaking highway contracts through this route.
While more projects could also meet the same fate, more business for private sector players could come in with Chandra saying the NHAI was currently scouting for a consultant for Rs 12,000-crore (Rs 120 billion) project to develop a 235-km Outer Ring Road of Andhra Pradesh's new capital Amravati. It would be an eight-lane expressway.
He also said developing expressways was going to be a priority sector for the NHAI. Besides Amravati Outer Ring Road expressway, the NHAI was working on Lucknow-Kanpur, Delhi-Jaipur,Vadodara-Mumbai expressway projects as well.
"For Vadodara-Mumbai project, the detailed project report has been prepared and the auction is going to happen any time soon. For Bangalore-Chennai expressway, 50 per cent of the land acquisition is already over," Chandra said.