The rising cost of medical insurance has prompted India Inc to provide lower cover to employees. A 2011-12 employee benefit survey says the average sum assured under the group medical cover offered by companies has come down by 40 per cent -- to Rs 300,000 from Rs 500,000 -- over the last two years.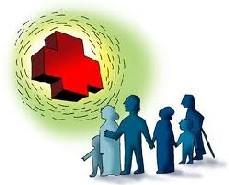 In the same period, the average premium cost per employee has increased by 36 per cent -- to Rs 9,300 from Rs 6,800 in 2008-09, notes the study by insurance broker Marsh India.

"The increasing costs of medical insurance are forcing employers to make changes to the way they provide this benefit to their employees, with many companies requiring them to contribute to the cost of provision," points out the report.

Consequently, almost two-thirds of surveyed organisations have already made at least one change to their benefit plan design in the last two years, by requiring employees to make a greater contribution to the company benefits scheme.

For instance, only 40 per cent of employers are extending the covers to employees' parents as part of the group mediclaim policy, compared to 60
per cent two years ago.
Similarly, 33 per cent of firms have introduced the co-pay element on claims in 2011-12, compared to six per cent in 2008-09. Besides, 76 per cent of the companies are imposing room rent restrictions, compared to 42 per cent two years ago.
The survey covered 188 organisations, taking into account 1.4 million lives from across five insurance companies, besides as many third-party administrators and solution providers of health and wellness.
The extension of cover has resulted in an improvement in the loss ratios for the companies. Thus, 2011-12 saw 52 per cent of the companies reporting claims ratio over 100 (where claims exceed premiums) compared to 63 per cent a year ago.
"Plan design changes provide immediate respite from premium increase, but it is not a sustainable strategy," says Marsh India CEO Sanjay Kedia.
"Greater long-term suitability will come from understanding the underlying cost drivers and adopting appropriate measures such as employee engagement and wellness initiatives."