Indian companies are expected to dole out an average salary hike of 12 per cent in the next one year, while laying more emphasis on performance-linked pay packets, says a survey by global consultancy Mercer.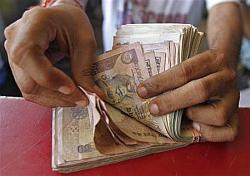 While the projected average pay hike for 2013-14 fiscal is unchanged from the last two financial years, a decline has been witnessed in hiring intentions of companies for the next one year, the report said.

'2013 Total Remuneration Survey - All Industries' released on Wednesday has projected an average salary increase of 12 per cent across industries in the next fiscal.

"Overall average salary increase would be around 12 per cent in 2013-14 period," Mercer India's Director (Information Product Solutions) Muninder Anand said in New Delhi.

Pharmaceutical sector expects to see the highest pay hike at 12.5 per cent.

"While companies continue to budget for double digit increments, there appears to be a strong sentiment to contain costs leading to companies re-evaluating their budgets," the report said.

The findings are based on a survey of 734 organisations across diverse sectors.

As per the report, organisations would be giving a hike of 4 per cent as promotion increase and three per cent as "market adjustment or correction, at median".

However, the survey found that only 72 per cent of companies have plans to hire people in the next financial year whereas the same was at a high of 84 per cent during 2012-13
period.
"Performance based pay and rewards will gain prominence in the appraisal cycle. Hiring will still continue to be on the agenda for most companies in 2013," Anand told reporters.
Meanwhile, the variable bonus payout -- as percentage of annual guaranteed cash salary -- is projected to be around 19.30 per cent for 2012-13 fiscal. During this period, the variable pay is expected to be 25.70 per cent and 23.50 per cent for hi-tech and pharmaceutical sectors, respectively.
In the current business environment, Anand said that companies are increasingly moving employee remuneration away from a fixed-pay approach to one that relies more on variable compensation.
"Corporate sentiment is cautiously positive, though companies are adopting a wait-and-see policy. Our research suggests that companies are not looking at holding back increments in 2012, but are likely to be more selective," Anand said.
Meanwhile, average attrition rate touched 10.1 per cent in the first six months of current financial year, while the rate of retrenchment of staff during the same period stood at 2.2 per cent.
Mercer provides consulting in the areas of talent, health, retirement and investments.