The meeting of a panel of ministers headed by Finance Minister Pranab Mukherjee on limiting the supply of subsidised LPG has been deferred after apparent objections from some UPA constituents.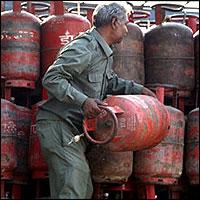 The Empowered Group of Ministers (EGoM) was scheduled to meet at 1330 hours today, but the meeting was preponed to 1230 hours. However, the meeting was called off at the last moment.

Official sources said the meeting was called off "due to non-availability" of certain members of the panel and no new dates have been notified.

The meet was to consider limiting the supply of subsidised LPG cylinders to 4-6 per household in a year to cut down the government's subsidy outgo by over Rs 12,000 crore (Rs 120 billion).

However, the move was opposed by key UPA allies, the DMK and TMC. DMK leader and Fertiliser Minister M K Azhagiri had decided not to attend the meeting to show his party's opposition to the proposal, sources in the Chennai-based party said.

The Trinamool Congress, too, was opposed to the move, but its representative in the EGoM and Railway Minister Dinesh Trivedi, was to attend the meeting to voice his party's strong opposition to the proposal.

Other members of the EGoM include NCP leader and Agriculture Minister Sharad Pawar, Power Minister Sushilkumar Shinde, Road Transport Minister C P Joshi, Oil Minister S Jaipal Reddy and Planning Commission
Deputy Chairman Montek Singh Ahluwalia.
Both the petroleum and finance ministries were keen on the proposal, as it would have plugged the diversion of subsidised LPG for commercial use and cut down the government's subsidy outgo.
The EGoM was to consider giving every household only 4-6 LPG cylinders at a subsidised price of Rs 395.35 in Delhi and asking them to pay the market price of Rs 666 per bottle for any requirement beyond that.
Limiting the supply of subsidised LPG cylinders is likely to save the government over Rs 12,000 crore in subsidy outgo annually.
The limited supply of subsidised LPG would be for those who own a car, two-wheeler, house or figure in the income tax list, according to the proposal.
Each 14.2-kg bottle of LPG normally lasts a household 45-60 days and based on this calculation, six cylinders are enough to see a family through the year.
At present, the records of LPG distributors of public sector companies shows that a vast number of households are taking as many as 20 to 30 cylinders per household each year.
This suggests that large-scale diversion of subsidized cooking gas is taking place, for use in commercial establishments, such as restaurants and dhabas and as auto fuel.
LPG for commercial use is sold at the market price and packed in different cylinders.
State-owned fuel retailers Indian Oil, Bharat Petroleum and Hindustan Petroleum lose about Rs 63 crore per day on selling domestic LPG below cost.
© Copyright 2021 PTI. All rights reserved. Republication or redistribution of PTI content, including by framing or similar means, is expressly prohibited without the prior written consent.