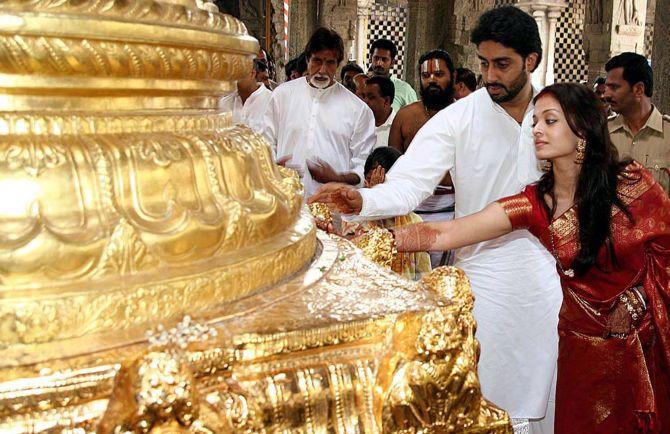 Punjab National Bank offers 1.75% interest on short-term deposits
The Punjab National Bank has offered highest rate of interest, 1.75 per cent per annum, to Tirumala Tirupati Devasthanam, which manages one of the richest temples in the world, for a three-year deposit under Gold Monetisation Scheme.
TTD will invest around 2.3 tonnes of gold with fineness not less than 0.995 in the PNB.
While TTD will directly invest around 1.3 tonnes of gold, another one tonne of gold investment will be shifted from State Bank of India where the existing gold investment matures in March.
TTD will invest another 1.4 tonnes of gold of mixed category -- ornaments, articles, etc. -- with Indian Overseas Bank.
The bank will be responsible for taking the mixed gold to mint and getting it purified, including transportation, insurance, melting, conversion and assaying charges.
For the refined gold, Indian Overseas Bank has quoted interest rate of 1.25 per cent per annum for a three-year deposit under GMS.
TTD prefers to redeem gold rather than cash at maturity, as offered under earlier Gold Deposit Scheme.
According to the temple authorities, 4.5 tonnes of gold already in banks under GDS fetches an interest of 80 kg of pure gold every year.
Earlier, the investment committee of TTD had decided to keep the gold corpus intact.
In December, the committee said it would meet government of India and RBI officials, seeking amendments in medium-term and long-term deposits under GMS so that interest is paid in gold only.
The short-term deposits under GMS are similar to GDS, which is being followed by TTD.
The temple management had earlier said that the existing rate of interest offered by banks on short-term deposits under GMS was very less and asked the banks for higher rate of interest.
3 tonnes: Gold already mobilised under GMS till last week
2.3 tonnes: Amount of gold TTD has promised to deposit with PNB, other temples to follow
1.75 % per annum: Rate of interest quoted by PNB to TTD under 3-year deposit scheme
4.5 tonnes: TTD deposits of gold under GDS, the earlier scheme
44.5 kg of raw gold: Shree Siddhivinayak Temple Trust looks to deposit in GMS
4-5 tonnes: Bankers' estimate of the amount of gold that could be mobilised if temples deposit 2.5 per cent of gold
5,000 tonnes: Industry estimate of gold lying with temples
50: Collecting centres that have joined the GMS, others may join once scheme picks up
Govt assured stakeholders last week that the scheme will be further simplified
Few banks have signed the tripartite agreement with CPTCs even after several months of chasing them
Actor Abhishek Bachchan and his wife, actress Aishwarya Rai, at Tirumala Tirupati Devasthanam temple shrine in Tirumala. Photograph: Reuters