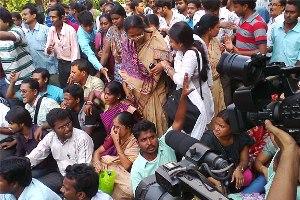 Enforcement Directorate, which is probing the money trail in the Saradha ponzi scam will further attach properties worth Rs 500 crore (Rs 5 billion), an official in the department said.
"We have identified properties for the attachment, which is now under process.
"The estimated market value of these properties will be Rs 500 crore," the official told PTI.
He said this would be in addition to the properties worth Rs 1050 crore (Rs 10.5 billion) which have already been attached by ED.
These properties, held in the name of Saradha group chief Sudipto Sen, are large pieces of land at Bishnupur in Malda (including an orchard).
Budget 2015: Complete Coverage
Properties held in the names of former union minister Matang Sinh, now in jail custody after arrest by Central Bureau of Investigation, and painter Suvaprasanna would also be attached.
Claiming that this was a 'big achievement' of ED, the official said the total value of attached property would cross Rs 1500 crore (Rs 15 billion) which was substantial.
According to estimates, the total money raised by Saradha Group was about Rs 2500 crore (Rs 25 billion) out of which Rs 541 crore (Rs 5.41 billion) had been returned to the depositors.
"The amount of Rs 1500 crore (Rs 15 billion) was a part of the outstanding Rs 1959 crore (Rs 19.59 billion) which was not returned," the ED official said.
The attached properties would be put up for auction once the Prevention of Money Laundering Act court gave its direction to do so, he added.
CBI is also probing a criminal conspiracy angle of the Saradha scam.
Image: Saradha agents stage dharna demanding compensation in Kolkata. Photograph: Dipak Chakraborty/Rediff.com