Assets include Kalanithi Maran's shares worth Rs 139 cr in Sun Direct, and Sun Network buildings and land worth Rs 266 cr.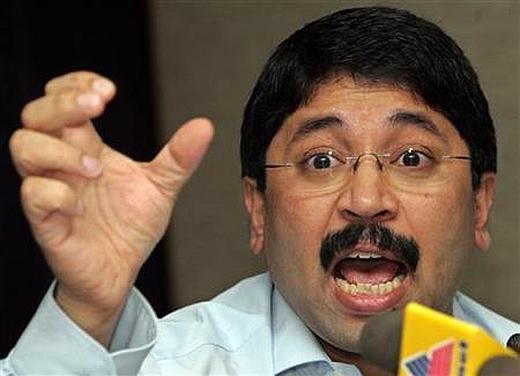 The enforcement directorate (ED) has issued an order to attach assets worth Rs 742.58 crore belonging to former Union telecom minister Dayanidhi Maran, his brother and media tycoon Kalanithi Maran and the latter's wife Kaveri Kalanithi in the Aircel-Maxis case.
"This attachment is issued by the directorate in respect of the offence of money laundering relating to the illegal gratification amounting to Rs 742.58 crore received by Dayanidhi Maran. The offence of money laundering under section 3 of the Prevention of Money Laundering Act (PMLA) is being investigated," it said.
Earlier, a tweet from the ED's official Twitter handle said, "ED HIU attaches under PMLA FDs, land & building, shares of Maran brothers worth Rs 742.58 crore in #Aircel-Maxis case."
The properties attached include Kalanithi Maran's shares worth Rs 139 crore in Sun Direct TV Pvt Ltd, freehold land and building owned by Sun Network TV Pvt Ltd worth Rs 266 crore, land and building owned by Kal Comm Pvt Ltd worth Rs 171.55 crore, a fixed deposit held by Kalanithi Maran of Rs 100 crore, a fixed deposit held by South Asia FM Ltd worth Rs 31.34 crore, fixed deposits held by Dayanidhi Maran and others worth Rs 7.47 crore and fixed deposits and mutual funds held by Kaveri Kalanithi worth Rs 1.30 crore and Rs 1.78 crore each.
Calls and messages to Sun Group Chief Financial Officer S L Narayanan went unanswered till the time of going to press.
In August last year, the Central Bureau of Investigation had filed a charge sheet against the Maran brothers and their companies, including the foreign companies. These included the Malaysian businessman T Ananthakrishnan-promoted Maxis Communications.
They were charged for the offences punishable Section 120-B (criminal conspiracy) of the Indian Penal Code and various provisions of the Prevention of Corruption Act.
"So the attachment of the illegal gratification by Dayanidhi Maran has been done thereafter, as per provisions of PMLA," said an official announcement by the ED. The ED had earlier recorded statements of both the Maran brothers after issuing notices to them in October last year.