The RBI cut its benchmark policy rate by 25 basis points on Tuesday, for the second time since the start of the year in a bid to help revive flagging growth in Asia's third-largest economy, but warned that its scope for further policy easing is limited.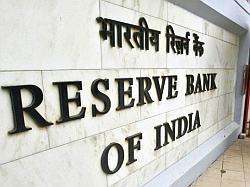 The Reserve Bank of India lowered its repo rate to 7.50 percent and left the cash reserve ratio for banks unchanged, in line with expectations.

Commentary

Rupa Rege Nitsure, Chief Economist, Bank Of Baroda, Mumbai

"In my opinion it is a very reasonable policy given the limited elbow room for RBI to ease more aggressively. But stance remains growth supportive. I do not expect immediate change in lending rates but around mid-April when liquidity situation is likely to return to normalcy, there is a possibility of transmission happening to some extent.

"The RBI had spoken of the limited scope for easing even in the January policy but have eased rates today. So I am surely expecting another baby cut of 25 bps in the May policy which will be influenced by the trajectory of core inflation which is expected to remain low. There is unlikely
to be any aggressive easing, but easing will continue at a gradual pace going ahead."
Anjali Verma, Economist at Phillipcapital, Mumbai
"RBI has continued to maintain limited room for monetary easing. I expect another 25-50 basis points of cuts in 2013. I expect headline inflation to decline based on expectations of a normal monsoon and falling crude prices. Even though there is a divergence between CPI and WPI, the moderation in core inflation below 4 percent has brought it within the RBI's 3-5 percent long-term average."
A. Prasanna, Economist, ICICI Securities Primary Dealership, Mumbai
"I think the statement is balanced and is similar to January's stance. I wouldn't characterise it as dovish. The guidance emphasises the point that they are concerned about growth but space for more cuts is limited due to headline inflation and the divergence with CPI. We expect another 25 bps rate cut in May and then pause."
Also read
:
RBI cuts repo rate, loans may get cheaper
(Reporting by Treasury, Markets and Companies teams)