The recent softening of inflation is purely a base effect at play.
India released its official inflation data (Wholesale price index) for May on Friday. The data showed, inflation fell to 4.7 per cent (lower than the market expectation) from 4.89 per cent recorded a month before, the lowest since October 2009. What added a tad to the relief was a minor downward revision in the March inflation data (from 5.96 per cent to 5.65 per cent), though this relief might be short-lived since it was only the second downward revision since September 2011, while the data was revised upward 15 times in the intervening period. With this, India ended with FY13 inflation at 7.4 per cent, compared to nine per cent in FY12.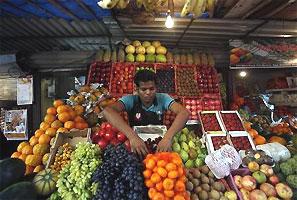 However, as was mentioned earlier, the recent softening of inflation is purely a base effect at play. In fact, the average monthly inflation for three years, between FY11 and FY13, was 8.63 per cent. Not surprisingly, inflation is easing despite the index value moving up.

Indian companies say the easing brings little cheer, despite the fact that their input costs have been falling.

In fact, while core inflation (headline inflation stripped of the volatile food and fuel component) fell to a mere 2.43 per cent (the lowest since December 2009), non-core inflation still remains high. And, a sustained level of high inflation manifests itself in the form of wage price spiral. In fact, corporate margins still continue to be squeezed due to high wage cost and a high interest rate scenario.

Moreover, like the recently released IIP data, even the WPI data seems to suffer from wrong input. Cases in point are the indices for diesel and coal. In March, when the diesel price was increased by 50p, the diesel index actually fell from 202.7 to 201.7.
On the other hand, while the diesel prices were left untouched, on account of the Karnataka Assembly elections, the index went up to 203.7 in April. Surprisingly, however, the May index dipped to 203.3, when the price actually rose by Re 1.
Similarly, the coal index, which remained steady for 13 continuous months (at 210.3) till February, fell by nine per cent in March to 189.7, jumped back up by 11 per cent in April to 210.4, only to dip again by nine per cent in May to 189.7. Revision of these numbers would have material impact on the WPI, given that diesel has 4.67 per cent weight in the index, while coal has 2.09 per cent weight.


---
The writer is a Delhi-based independent economist