As much as 20 per cent of the gross merchandise value (GMV) of sales made on e-commerce platforms is being financed through the no-cost EMI route, up from 4-5 pc two years ago.
Surajeet Das Gupta reports.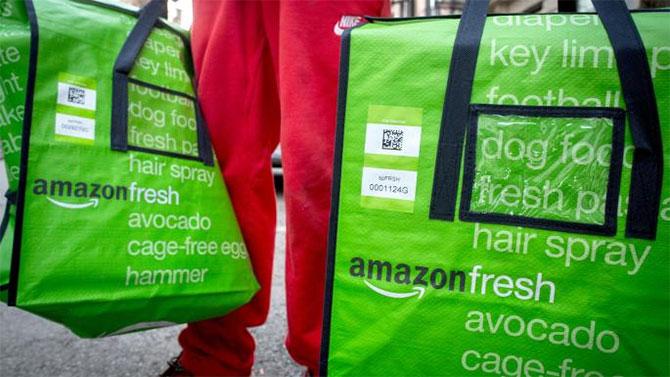 No-cost equated monthly instalments offered to consumers by credit card companies and NBFCs are dramatically changing the e-commerce landscape.
As much as 20 per cent of the gross merchandise value (GMV) of sales made on e-commerce platforms is being financed through the no-cost EMI route.
Just two years ago, the share of such sales was 4 to 5 per cent, according to estimates by finance and e-commerce companies.
E-commerce major Amazon.com said that during its big sale that concluded this month, as much as three of the four EMIs taken by consumers were no-cost EMIs.
The company said that for products of over Rs 20,000, at least one in every three transactions was through a financing scheme.
Vikas Bansal, director, Amazon Pay, said, "No-cost EMIs will help expand the reach of financing to more customers, especially in smaller towns and cities.
"Today, of the more than 100 million active customers, only 30 million get financing options.
"We want to reach all of them and one way to do it is through the no-cost EMI route.
"This will surely help in growing the market."
Logging gains
100 million online customers in India; only 30 million have access to finance
55-60 million transactions on e-commerce platforms in a month
20 per cent share of gross merchandising value (GMV) being financed through no-cost EMIs; the figure was 4-5 per cent two years ago
40 per cent GMV mobile phones account for
Amazon says one in every three transactions for products worth over Rs 20,000 is through a financing scheme
Under this EMI facility, consumers are given an upfront discount equivalent to the interest that they have to pay.
The discount cost is borne by the manufacturer or seller or both.
These EMIs are being offered by independent credit card companies as well as banks, NBFCs and even Amazon through its wallet, Amazon Pay.
Earlier, credit card companies offered the same deal but would charge an interest, which consumers did not find attractive.
The change was started last year by some credit card players but has now caught on as it has attracted customers.
Bajaj Finserv, one of the largest players in e-commerce finance, said it had a 30 per cent share of the market.
Its average size of no-cost finance EMI is Rs 16,500.
On average, it offers 160,000 to 170,000 loans a month.
Consumers usually take EMIs for products that have a high value, like mobile phones, electronics items and high-end appliances.
Most companies offer no-cost EMIs only if consumers buy products worth over Rs 3,000.
For instance, e-commerce companies say that during the big discount sales, fashion, as a category, provides the highest volumes but in terms of value mobile phones reign supreme.
Arvind Singhal, chairman of Technopak, a consultancy firm in the retail space, said, "This is going to be a growing trend and we see that categories like consumer electronics and durables followed by furniture are big-ticket items, which will be financed through these no-cost EMI schemes."
Singhal said manufacturers and sellers who are online are moving away to some extent from heavy discounts by offering consumers EMIs at no cost for high value items.
E-commerce players, however, said most sellers and manufacturers are cutting down on their promotion and marketing budgets (like advertisements) and are preferring to pass that on to consumers through no-cost finance.
They are not trimming their discounts as they want the market to grow.
They point out that the no-cost EMI essentially means that many customers who were postponing their buying have now come into the market because of a financing option.