Politics of climate negotiation is expected to reach a crescendo tomorrow when the Durban talks enter the last leg of deliberations. With only one day to go and no major decision surfacing from almost two-week long parleys, uncertainty is looming large over the outcome of the talks.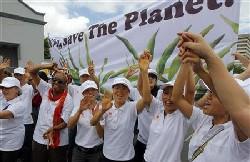 The only silver lining is the likelihood of finalising a $100 billion green climate fund.

Belying initial hopes, the talks failed to deliver on coming up with a clear road map on second commitment period of Kyoto Protocol and technology transfers. Yet, experts are optimistic.

"The climate talks usually escalate in the last two days. Even during earlier talks in Cancun and Copenhagen, we had seen negotiators work well past midnight. We hope to see some positive development tomorrow," notes Rita Roy Choudhury, director (environment, climate change & renewable energy) at Ficci.

A clear roadmap on green climate fund and second commitment period of Kyoto is what, the Industry chamber is hoping for, she says.

CII also expects to see some positive announcement
related to the future of Kyoto.
According to reports in Reuters, negotiators are close to agreeing on the shape of a Green Climate Fund. Developed countries have pledged up to $100 billion a year by 2020 to aid developing states most directly affected by rising global temperatures to adapt their economies and protect themselves from adverse weather.
As for the summit, it is officially referred to as the 17th session of the Conference of the Parties (to the United Nations Framework Convention on Climate Change and the 7th session of the Conference of the Parties serving as the meeting of the Parties to the Kyoto Protocol started on November 28.
The second week of talks saw all the major countries and blocs coming up with their own set of pre-conditions before entering into any further legally binding commitments.
While the EU wants a new legally binding mitigation treaty for all by 2015, which will take effect from 2020, the US wants no discussion on any legally binding commitment till 2020.
India has said it has no problem with a legally binding treaty, but it wants the content of the treaty to be discussed before agreeing to its legal structure.