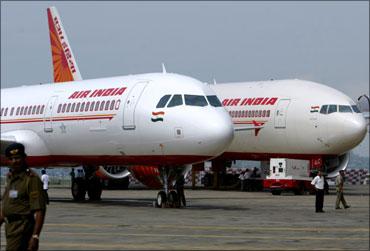 Dublin Airport Authority is in talks with Air India to woo it to use the Irish airport as its European hub by promising an estimated annual savings of Euro 14 million and immigration and customs clearance for its passengers transiting to the US.


The talks have been going on for the past several months since the national carrier started looking for another hub in Europe after Frankfurt.


Air India, which operates three flights out of India and two from the US to its Frankfurt hub, has been considering shifting out of the German city and was looking for another European airport as a hub.


However, no firm decision has yet been taken. With a high-level Air India team visiting Dublin Airport a few months ago, DAA chief executive Declan Collier is now here to take the discussions with Air India further.


DAA was also looking at Kingfisher as a potential customer which can make the Irish airport its hub.


Jet Airways already has Brussels as its operational hub in Europe.


"Compared to Frankfurt, we have estimated that Air India can save up to Euro 14 million per year through lower aeronautical charges, Customs and Border Protection charges (of the US) and other facilities," DAA communications director Vicent Wall told PTI in New Delhi.


"We can also do a turnaround for Air India planes in a short time of two hours. That is what they need. Our costs are about 25 per cent cheaper than any European airport," he said.


A new and modern terminal building of DAA, that would start functioning from November, would have pre-clearance
for customs and immigration for passengers travelling to the US at Dublin itself.
"This pre-clearance facility, which is also available at Shannon airport in Ireland, would allow Indian passengers to avoid long queues at US entry points and take a taxi right after getting out of the aircraft in America," Wall said.


"No other European airport will have this facility that will make life easier for passengers transiting to the US," he said, adding Ireland and the US have an 'open sky' agreement. Air India aircraft would have dedicated parking bays and its passengers separate check-in counters, baggage clearance points and duty-free shopping areas at Dublin. Air India currently flies about half a million passengers annually to the US.


Over and above, the Indian carriers would be able to enjoy the advantages of a 'an uncongested airspace' which would allow it to curb any delay or fuel burnup due to heavy air traffic, the DAA official said.


Replying to questions, Wall said DAA was participating in the Delhi International Airport Limited as a minority partner, investing its airport management expertise.


He said DAA was interested in participating in the modernisation and upgradation of Indian airports as joint venture partners.


Dublin Airport is among ten largest airports in Europe from where 40 airlines, including five from the US and Etihad of the United Arab Emirates, operate.