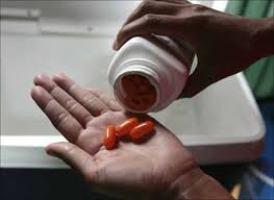 In order to keep pace with the government's healthcare agenda, the pharmaceutical sector wants research work to go on, at any cost.

In a letter to health minister Harsh Vardhan, the Indian Pharmaceutical Alliance, an industry body representing leading pharma companies, including Sun Pharma, Lupin, Dr Reddy's Labs, Cadila Health and Glenmark, stressed the need for an out-of-court settlement with health activists fighting for the rights of clinical trial participants.

The letter says that the ongoing litigation in the Supreme Court is hindering drug development and research work in the country.

Drug makers argue research work has come to almost a standstill with the stringent directives from the apex court asking the government and the Drug Controller General of India to keep a tab on clinical trials and new drug approvals to ensure safety of patients.

While the pharma sector is complaining that even genuine trial applications and new drugs are suffering and facing delays, the regulator is being caution in the light of the court's directive.

According to the drug regulator's website, merely 25 clinical trials have been approved by the DCGI in the first five months of 2014, compared with 107 in 2013.

The slowdown in clearance is also evident in the case of new drug approvals.

While 35 new drugs were approved by the regulator in 2013, only seven new medicines have received a go-ahead so far this year.

"It is, therefore, necessary that your ministry initiates a dialogue with the petitioners (health activists) to allow the Central Drugs Standard Control Organisation to function normally,"
IPA said in the letter.
It also said the health ministry must adopt "a reasoned and hardened position" vis-à-vis the apex court to let the executive function.
According to a senior official, around 200 applications seeking permission to conduct clinical trials are pending with the regulator.
However, files are not moving.
"The government's job should be to create enough safeguards and provisions to ensure that rights and safety of subjects in a clinical trial is not compromised but this does not mean stopping business or development work.
"What is happening now is hindering access to affordable medicines and this is not in favour of patients either."
Officials pointed out that earlier, an approval used to take 12-16 weeks, whereas now there are no clear timelines for a regulatory clearance.
This is directly impacting the growth of pharmaceutical companies as well as clinical research organisations.
In the past year, the Rs 80,000-crore (Rs 800 billion) domestic pharmaceutical sector has witnessed a significant decline in growth.
LAW STRUCK
According to the drug regulator's website, merely 25 clinical trials have been approved by the DCGI in the first five months of 2014, compared with 107 in 2013
While 35 new drugs were approved by the regulator in 2013, only seven new medicines have received a go-ahead so far this year