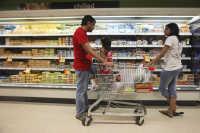 Industry leaders, including Anand Mahindra and Kiran Mazumdar Shaw, have asked the government not to give in to the demands of Trinamool Congress chief Mamata Banerjee and carry forward the reforms process.
Biocon Chairperson and Managing Director Shaw termed Trinamool Congress chief Mamata Banerjee as "maverick politician" stating her vote bank politics is not in sync with economic growth.
"Mamta Didi is a maverick politician who depends on a vote bank of poor people. Her economic agenda is not aligned with strong economic growth," Shaw tweeted.
Supporting the government's decision to relax retail FDI norms, Shaw added: "The fear of FDI retail can be answered by the same fear that was expressed when McDonald's and other chains were allowed."
Mahindra & Mahindra
Chairman Anand Mahindra also asked the government not to give in to the demands of the West Bengal Chief Minister and instead reforms process must be carried forward.
Backing the UPA government on reforms, Mahindra tweeted: "Again, we urge the government to stand its ground. Right-thinking Indians will be less than amused by partisan politics in a fragile economy."
Ficci President R V Kanoria also said it was important for political parties to understand the importance of economic reforms for the growth of the country.
"The country needs reforms, it needs to grow, it has potential, talent and entrepreneurial skills. I will urge those who are not supporting the reforms to think carefully," he said.
Kanoria further said political differences must be set aside in the greater interest of the country.