Defence Minister Manohar Parrikar says global aircraft makers will have to get approval from their own governments to transfer technology and build jets in India.
Alnoor Peermohamed reports from the Aero India show.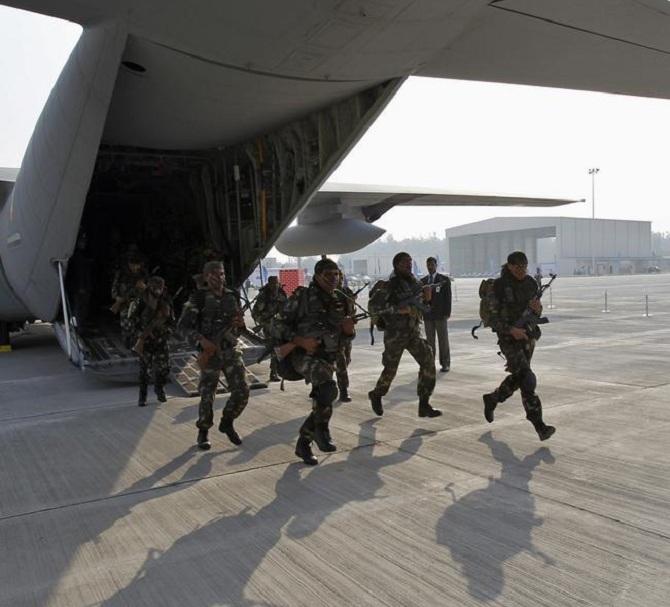 India has mandated that global aircraft makers such as Lockheed Martin and Boeing get approvals of their governments to transfer technology and build jets with a local partner in India, if they are to bid for the country's single-engine fighter requirement.
"The product which I want to buy, I want it to be made in India. Export to a third nation is an additional bonus. If someone wants to shift a facility to India it's their choice, or they wants to assemble a new one. I am no way concerned with it," said Defence Minister Manohar Parrikar after inaugurating the biennial Aero India show on Tuesday.
"If they're proposing something, their government has to give them in-principle approval so that they can quote it to me. If something is not given or someone has not given it to them, then they cannot give a quote to me," he said, but did not clarify whether a request for proposal has been issued.
Parrikar was responding to queries on US President Donald Trump's push for Make in America, to revive US manufacturing and generate local jobs.
In October, India floated a request for information to global jet makers to partner with Indian companies and jointly bid to sell single-engine fighters for the Indian Air Force.
The contest is different from the 126 medium multi-role combat aircraft, which was finalised with a 36-plane order from France's Rafale, which will begin delivery from September 2019.
Lockheed Martin has offered to transfer its Fort Worth production line to India and make the latest Block-70 of F-16 fighters.
Saab, which makes the Gripen fighter, has not only offered to help with Mark-1 and Mark-2 of India's light combat aircraft Tejas, but also co-develop the advanced medium combat aircraft, which the Defence Research and Development Organisation plans to develop.
Independently, the Indian Navy has floated a tender to supply and produce 57 twin-engine carrier-borne fighters, for which Boeing has expressed interest to participate with its F-18 twin-engine planes. It opted to buy from the global market after it publicly rejected the navy version of the Tejas, saying it was overweight and would not meet its requirements.
Parrikar also reiterated the country's stand that 100 per cent foreign direct investment (FDI) in defence in select areas would be allowed only to bridge technology gaps, than a blanket approval.
"Suppose someone comes to manufacture engines, which we don't have technology in, I will definitely consider it. 100 per cent FDI in areas where I do not have any expertise, I will definitely consider it. What's the point of getting stuck and continuing to import?" he said.
---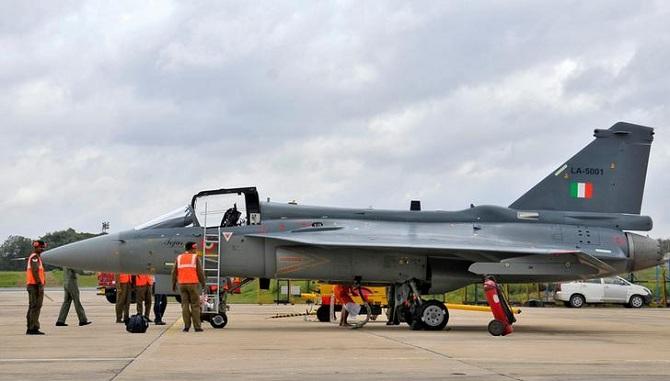 IMAGE:

Tejas, India's first locally-built Light Combat Aircraft, before its induction into the IAF at the Hindustan Aeronautics Limited Airport in Bengaluru in 2016. The Tejas fighter has been powered by the GE-404 engine since its development.

Photograph:

Abhishek N Chinnappa/Reuters

.

GE requires a US government approval to collaborate on military programmes before its Bengaluru team can work on the jet engine programme.
Raghu Krishnan reports.
General Electric (GE) has delivered two qualified 414 engines to be tested on the planned home-grown Tejas Mk-2 single engine fighter and is looking to collaborate with India to build engines for the proposed advanced medium-combat aircraft.
The Tejas fighter has been powered by the GE-404 engine since its development and the Indian Air Force plans to induct over 120 planes with the same engine.
So far, India has ordered around 100 engines for the fighter from GE and plans to buy more engines in the coming years.
The single engine fighter being developed by the Aeronautical Development Agency (ADA), a DRDO unit, will undergo an upgrade with more features that requires a more powerful engine and GE has been tasked to supply its GE-414 engine.
"The first two engines are for flight test. They are ready to go as and when the plane is ready. We are committed to deliver six more engines," said Mark Pearson, who leads the military engine programme for GE.
Pearson is betting on the over 700 engineers who work on design and take charge of manufacturing parts of GE's commercial aero engines, at its India centre in Bengaluru, to push for local co-development of the engine for AMCA, which ADA is developing.
India has begun preliminary design work on the stealth aircraft, but has not launched a programme officially.
GE is looking to partner with ADA, but it also requires a US government approval to collaborate on military programmes before its Bengaluru team can work on the jet engine programme.
The Bengaluru team has worked on the GE-9D engine that powers the Boeing 777 planes and the engine that powers the A380 aircraft. It is also developing the 9X, which the local team in India is collaborating on for the replacement engine of Boeing 777-9D.
"The foundation is already here built over 17 years," said Pearson.
GE, which has a manufacturing facility in Pune whose 40 per cent contribution is engine components, says it could meet the mandated 50 per cent requirement of local production for defence contracts within India.
"We can deliver on our commitments as and when we see more orders," said Alok Nanda, general manager, (India engineering operations) at GE.