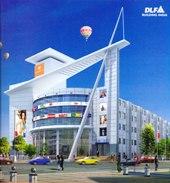 Realty major DLF on Friday announced sale of its wind turbine projects in Tamil Nadu and Rajasthan for Rs 240.9 crore (Rs 2.4 billion) to two separate entities as part of its strategy to exit non-core businesses and reduce debt.

While the company has sold the 34.5 MW wind mill project in Tamil Nadu to Tulip Renewable Powertech for Rs 188.7 crore (Rs 1.88 billion), the 33 MW wind mill project in Rajasthan has been divested to Violet Green Power for Rs 52.2 crore (Rs 522 million).

DLF had sold 150MW wind mill in Gujarat to Bharat Light and Power for Rs 282.30 Crore (Rs 2.82 billion).

Now, the company is left with only Karnataka's wind mill having a capacity of 11MW.

In a filing to the BSE, DLF said: 'a definite agreement has been entered between the company's wholly owned subsidiary DLF Home Developers and Tulip Renewable Powertech".

Accordingly, Tamil Nadu's wind mill project of 34.5 MW capacity, including related assets and liabilities and relevant long term loans, has been transferred to Tulip for Rs 188.7 crore (Rs 1.88 billion).

Similarly, DLF Home Developers has entered into another agreement with Violet Green Power for sale of Rajasthan wind mill undertaking of 33 MW capacity for consideration of Rs 52.2 crore (Rs 522 million).

"The transactions are in line with the DLF's objective of divesting its non core assets,"
the company said.
The company's share price was down 0.62 per cent to Rs 233.80 on BSE in afternoon trade.
The wind power project divestment is the latest in a string of deals entered by DLF in the last eight months.
In August last year, DLF had sold a 17-acre land in Mumbai to Lodha Developers for Rs 2,727 crore (Rs 27.27 billion). In December 2012, it announced sale of Amanresorts back to founder Adrian Zecha for about Rs 1,650 crore (Rs 16.5 billion), while in late January this year, it sold Gujarat wind mill project for Rs 282 crore (Rs 2.82 billion).
DLF has been selling its non-core businesses since last couple of years to focus on core real estate business and cut its huge debt, which stood at Rs 21,350 crore (Rs 213.5 billion) at the end of December quarter of 2012-13 fiscal.
The company is targeting to pare its net debt by half over the next three years to Rs 10,000-11,000 crore (Rs 100-110 billion) with the help of fresh issue of equity shares, sale of non-core assets and improved cash flows.
On Thursday, DLF's shareholders approved the sale of fresh equity shares to meet market regulator Sebi's norms of 25 per cent minimum public shareholding in a listed company.
Earlier, sources had said that DLF is likely to offer over 8 crore (80 million) fresh equity shares, worth over Rs 2,000 crore (Rs 20 billion) at current market price, for dilution of promoters stake to below 75 per cent from the current 78.58 per cent.