In a big-ticket land deal, realty major DLF has sold 17 acres of prime land in Mumbai to Lodha Developers for about Rs 2,700 crore (Rs 27 billion), nearly four times higher than the price at which the company had bought this parcel seven years ago in 2005.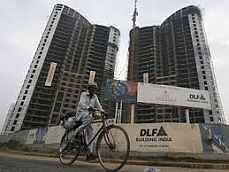 DLF had bought the land from National Textile Corporation for Rs 703 crore (Rs 7.03 billion). The company decided to sell this piece of land as part of the strategy to exit from non-core business.

"Lodha Developers has entered into a binding agreement to acquire DLF's wholly-owned subsidiary Jwala Real Estate, which is the owner of the strategic 17-acre Mumbai textile mill property at Worli," Lodha said in a statement.

"The acquisition is for a consideration of Rs 1,200 crore (Rs 12 billion) for both equity and debentures of the company. In addition, Lodha is also expected to take over about Rs 1,500 crore (Rs 15 billion) of liabilities that Jwala has incurred for the development since it purchased the property from NTC in 2005," it added.

The valuation of DLF's land is lower when compared with Indiabulls' deal in 2010 for 8.39 acre of NTC land for Rs 1,580 crore (Rs 15.8 billion).

"The acquisition is 3-4 times cheaper than deals recently done by other real estate players. At a cost of Rs 5,000 per sq ft, this land acquisition gives Lodha significant competitive advantage to build a mixed-use development over 5
million sq ft at the prime location of Worli," Lodha said.
With this current deal, DLF has raised nearly Rs 8,000 crore (Rs 80 billion) from sale of non-core-assets (hotel plots and IT SEZs/ Parks) in the last couple of years. The divestment proceeds are largely utilised to reduce net debt, which stood at Rs 22,680 crore (Rs 226.8 billion) as on June 30.
DLF, the country's largest realty firm, has also put on block two other major non-core assets -- luxury hotel business Amanresorts and wind energy -- and expects about Rs 3,000 crore (Rs 30 billion) from these two deals.
This is the second high-value land deal by Lodha's in the recent times. In 2010, the company had bought a 25,000-square metre plot at Wadala in Mumbai for Rs 4,050 crore (Rs 40.5 billion), termed as the costliest deal in the city.
Among other major deals in the country, Wave Infra last year bought 151 acres of land in Noida for a whopping Rs 6,570 crore (Rs 65.7 billion), making it the biggest transaction.
In 2008, BPTP had bagged 95 acres of land in Noida for Rs 5,006 crore (Rs 50.06 billion) through an auction, but the deal fell through as the company was unable to make the full payment.
DLF had bagged a 350-acre plot for Rs 1,750 crore (Rs 17.5 billion) in Gurgaon in 2009 and acquired 38 acres in the heart of Delhi for Rs 1,675 crore (Rs 16.75 billion) in 2007. Unitech had won 340 acres in Noida for Rs 1,582 crore (Rs 15.82 billion) in 2006.
© Copyright 2021 PTI. All rights reserved. Republication or redistribution of PTI content, including by framing or similar means, is expressly prohibited without the prior written consent.