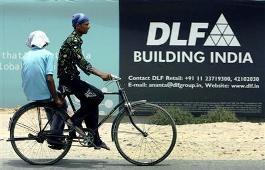 Realty major DLF is in advanced stages of negotiation with Lodha Developers to sell its prime land in Mumbai for about Rs 2,700 crore (Rs 27 billion) and a deal is expected to be finalised shortly.

DLF had bought 17.5 acres of land in 2005 from the National Textile Mills for about Rs 700 crore (Rs 7 billion).

It now wants to sell this land as part of its strategy to divest non-core assets to reduce its whopping debt of Rs 22,725 crore (Rs 227.25 billion).

According to sources, the talks are in advanced stages with Lodha and the deal is expected to be closed shortly.

Country's largest realty firm DLF is insisting on full payment at one go and does not want staggered payments, sources said, adding that the valuation could change depending on the payment structure.

Lodha Developers would rope in a private equity firm in this deal, they added.
When contacted, Lodha Developers managing director Abhisheck Lodha said: "We won't comment on market speculation".
A DLF spokesperson responded on similar lines.
In the last couple of years, DLF has raised Rs 4,844 crore (Rs 48.44 billion) from sale of non-core assets, which included hotel plots and IT Park/SEZs.
The company has put its luxury hospitality chain Amanresorts, wind energy and a huge land holding in Mumbai on the block as part of its plans to exit from non-core ventures and focus only on the property business.
DLF expects to raise about Rs 2,000 crore (Rs 20 billion) from Amanresorts and about Rs 1,000 crore (Rs 10 billion) from wind energy, sources said.
Recently, DLF had said that the company plans to cut its debt to about Rs 17,000 crore (Rs 170 billion) in this fiscal while asserting that it was not unduly "perturbed" by the massive debt.
The firm hopes to sell at least two out of its three big-ticket non-core businesses by the year end to lower debt.
"We are not unduly perturbed by the debt. We have annual rental income of Rs 1,800 crore (Rs 18 billion) from a leasing portfolio of 28 million square feet of office and retail space across the country," DLF Group executive director Rajeev Talwar had said.
Shares of DLF rose by 3.42 per cent to close at Rs 201.25 on the Bombay Stock Exchange.