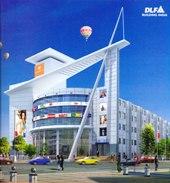 Property giant DLF has set in motion a strategy to concentrate on 'core' operations, launching a 1.2 million sq ft luxury residential project in Gurgaon, 'The Skycourt'.

This comes a day after it announced the $300-million sale of Aman Resorts, minus the Delhi property, part of the company's non-core asset divestment agenda.

The launch of the 19-floor luxury apartment project in Gurgaon's Sector 86 is the first big project from DLF this financial year.

Apartments in The Skycourt are priced between Rs 1.14 crore (Rs 11.4 million) and Rs 1.53 crore (Rs 15.3 million).

There are 674 units spread over 13 acres and it is learnt DLF got a little over 700 applications right on the first day.

After the Aman deal announcement, Sriram Khattar, senior executive director of DLF, had said the focus would turn from non-core to core and a few launches were expected over four to five months.

The absence of any so far had affected the cash flows.

The company saw a 62.8 per cent drop in net profit for the quarter ended September to Rs 138.5 crore (Rs 1.38 billion), down from Rs 372.4 crore (Rs 3.72 billion) in the corresponding period last year.

Income from operations (sales) dropped 19 per cent during the second quarter to Rs 2,039 crore (Rs 20.39 billion), compared to Rs 2,532 crore (Rs 25.32 billion) last year in the same quarter.

It is even lower than the first quarter sales of Rs 2,197 crore (Rs 21.97 billion).

In the financial year's first half, there was a 15 per cent decline in income from operations, to Rs 4,237 crore (Rs 42.37 billion) from the Rs 4,878 crore (Rs 48.78 billion)
in the corresponding period last year.
'The Skycourt' will help it realise approximately Rs 900 crore (Rs 9 billion) from sales but a major part of this would not show in the profit and loss account for this financial year.
Yet, with the other big project launches lined up, it expects to close the year with Rs 6,500 crore (Rs 65 billion) through sales bookings. It has said it would launch at least 8.5 million sq ft in Gurgaon till March.
The other big projects, Park Place-2 (to be called Crest) and Magnolia Phase-2,  are expected sometime in January and February.
The company sold NTC mill land in Mumbai to Lodha Developers in August for Rs 2,727 crore, helping reduce net debt to Rs 21,220 crore (Rs 212.2 billion).
As on September 30, the net debt was Rs 23,220 crore (Rs 232.2 billion) and the company aims to bring this down to Rs 18,000 crore (Rs 180 billion) by March end.
On the wind energy business, part of the non-core assets, the company had got investors' approval for its sale in July.
This is expected to fetch the company between Rs 800 crore (Rs 8 billion) and Rs 1,000 crore (Rs 10 billion).
DLF has an installed capacity of 228.7 Mw and owns wind energy farms in Gujarat, Rajasthan, Tamil Nadu and Karnataka.