Sources said valuation of all these assets was an ongoing process, and the mode and manner of disposal would be decided on a case-by-case basis
Illustration: Uttam Ghosh/Rediff.com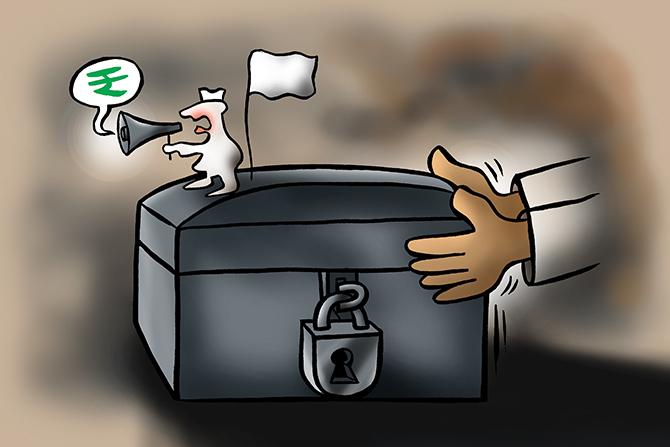 The central government, looking to exceed its disinvestment target of Rs 80,000 crore for the current financial year, has identified properties of nine state-owned companies it wants to hive off as soon as possible.
The companies whose assets the government plans to sell are Air India, Pawan Hans, Hindustan Fluorocarbons, Hindustan Newsprint, Bharat Pumps & Compressors, Scooters India, Bridge and Roof Co, Hindustan Prefab, and Projects & Development India.
The assets range from office spaces and apartments in prime localities in Mumbai, Navi Mumbai and the National Capital Region (NCR) to a heliport in Rohini (north Delhi), hangars in other airports, and factories.
"We are looking at three ways to sell these assets. First, through the well-established bidding process. Second, the NBCC model, where we hand over assets to NBCC, which develops them and then sells or leases them. The third method we are examining is of an exchange traded fund (ETF) for immovable assets," a senior official told Business Standard.
"Under this (ETF) method, properties are handed over to an asset manager, who then sells units of the ETF to investors.
"Each unit comprises a pre-determined share or stake in each of the properties which are part of the bundle," the official said.
The proposal of an immovable asset ETF is still in its early days and will have to be studied carefully before going ahead with it, the official added.
The nine PSUs whose assets have been identified are also on the list recommended for privatisation, and their strategic sale will continue as planned. The process of disposing of assets will continue separately.
For example, anyone who buys state-owned helicopter services provider Pawan Hans will have the right to use the Rohini Heliport and its facilities in north-west Delhi for a period of two years.
The government will still demerge the heliport into a separate company and look to sell it without any changes to the agreement with the buyer of Pawan Hans.
For Air India, the Department of Investment and Public Asset Management (Dipam) is confident that some part of the sale of the national carrier's ground handling, maintenance, catering and regional air subsidiaries will be completed this year.
Also on the block will be Airlines House in Delhi, Air India Complex in Mumbai, and hangars and buildings at Mumbai and Delhi airports, besides other assets, arts and artefacts.
Sources said valuation of all these assets was an ongoing process, and the mode and manner of disposal would be decided on a case-by-case basis.
On Saturday, Prime Minister Narendra Modi chaired a meeting to review the 2018-19 Union Budget announcements and the work being done in the finance ministry.
After the meeting, Finance Minister Arun Jaitley said the disinvestment target for the year would not only be met, but could be exceeded as well.
So far, Dipam has raked in about Rs 10,000 crore.