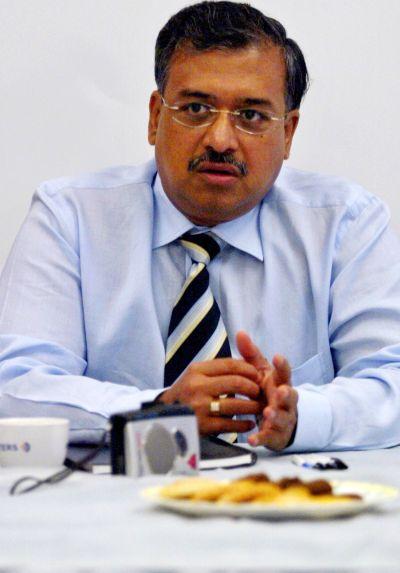 There are many reasons why the investors are worried. Post-merger, Sun Pharma may take more time for revival.
The soft-spoken billionaire pharmaceutical tycoon Dilip Shanghvi is well known as Harry Potter fan.
Shanghvi, who started Sun Pharma as a two man operation, now employs 14,000 employees, with products reaching over 40 countries.
With the help of 13 acquisitions, over the last 22 years, Shanghvi has built Sun Pharmaceuticals into India's largest pharmaceutical company, with consolidated sales of over Rs 27,500 crore (Rs 275 billion).
But with his latest acquisition of Ranbaxy, Shanghvi will perhaps need a magic wand.
The all-stock $3.2 billion transaction, announced in April last year, was to propel Sun Pharmaceuticals among the top five generic pharmaceuticals companies in the world and give $250 million of synergy benefits to the merged entity.
But a surprise profit warning by Sun Pharma issued last week (July 20) reveals chinks in Sun's armour.
As a result of the warning, Sun has lost 13% of its market value in the last one week, with many analysts predicting the stock price to fall further to as low as to Rs 700-levels.
There are many reasons why the investors are worried.
Post-merger, Sun Pharma may take more time for revival.
Also now there is greater uncertainty around supplies from its key Halol plant in Gujarat.
Besides, analysts say, with competition there is severe pricing pressure and company has limited scope to hike prices. Finally, there are no big product approvals expected in the US -- the world's biggest pharmaceutical market -- other than Gleevec.
"We trim our FY16 and fiscal 17 earnings per share estimates by 23% and 12% respectively. We have not factored in one-time costs likely to be incurred related to the Ranbaxy acquisition," said an analyst with Japanese financial power house, Nomura.
With 16 acquisitions under his belt, Shanghvi is well known as a turnaround expert. But his biggest gamble with Ranbaxy is turning out to be tricky. With the share price sliding, Shanghvi is putting on a brave face.
"A key priority for us is to ensure continued good manufacturing practice compliance by enhancing systems, processes and human capabilities to meet global regulatory standards at all our manufacturing facilities.
"As a part of this process and in order to address the deviations at the Halol facility, various remedial measures have been undertaken," Shanghvi told analysts on July 20.
Sun Pharma
Date
Price in Rs
Mcap Rs Cr
7/20/2015
946.80
227847.42
7/21/2015
805.30
193795.45
7/22/2015
832.25
200280.96
7/23/2015
827.55
199149.91
7/24/2015
835.75
201123.24
7/27/2015
823.90
198271.54
7/28/2015
821.35
197657.88
7/29/2015
829.95
199727.47
Source: Exchange
Compiled by Bs Research Bureau
The Halol facility is important for the company as it accounts for 10% of Sun Pharma's sales.
Besides, Shanghvi said remedial steps at Mohali, Dewas, Poanta Sahib and Toansa facilities are also underway.
A Sun Pharma spokesperson said at present its four facilities are under consent decree and the company has decided to focus on bringing one of these facilities back into compliance.
"Once that facility comes back into compliance, we will devote similar resources to bring other facilities back into compliance too," he said.
As a sweetener, Shanghvi said the company's target for synergy benefits from the Ranbaxy acquisition has increased by 15% to 20% to $300 million as compared to original target of $250 million, but by financial year 2018.
Image: Sun Pharmaceuticals' MD and chairman, Dilip Shanghvi. Photograph: Adeel Halim/Reuters