Since May 1, the dynamic fuel pricing model has been applied on a pilot basis in 5 cities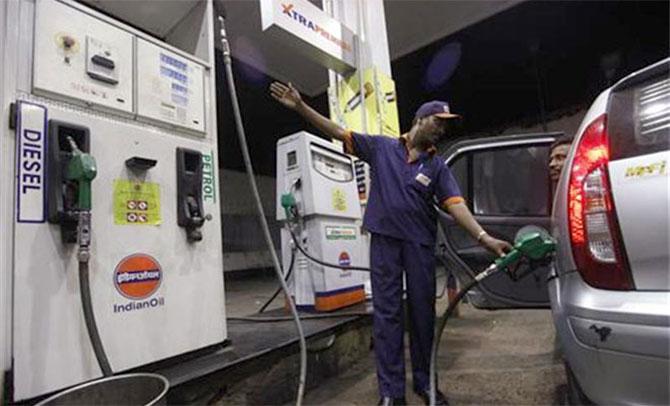 State-run oil marketing companies (OMCs) have decided to roll out the daily revision of fuel prices nationally from the second fortnight of June.
However, this has raised concerns about viability and inventory management among dealers. Currently, Indian Oil Corporation (IOC), Bharat Petroleum Corporation (BPCL) and Hindustan Petroleum Corporation (HPCL) review retail fuel prices every fortnight while taking global crude oil prices into account.
"We are planning to have a national launch of the dynamic pricing system by the second half of this month. However, dates are yet to be finalised," said a top official from an OMC. This development comes after reports that petrol and diesel prices will be revised on a daily basis from June 16.
It was on May 1 that the dynamic fuel price model was launched at five locations - Pondicherry, Chandigarh, Jamshedpur, Udaipur and Vishakhapatnam - in line with global practices. Interestingly, private fuel retailers like Essar Oil and Reliance Industries too followed the system in these cities.
"This will be a cause of concern as dealers will not be able to plan on how to manage their inventories. Moreover, not all the outlets in the country are automated. This may also affect our margins," said A D Sathyanarayan, president, the Consortium of India Petroleum Dealers (CIPD).
CIPD has a presence in states like Kerala, Tamil Nadu, Karnataka, and Maharashtra. On a monthly basis, each of these outlets consumes an average of 170 kilolitre of fuel. While in the Europe, inventory is managed by companies, in US dealers fix the final prices.
According to March 2017 figures, out of India's 56,190 fuel retail outlets, IOC, BPCL and HPCL's combined network accounts for 52,604. The private players in the sector are Shell, Reliance and Essar Oil.
"Things are getting normalised for us. Both customers and dealers have started getting adjusted to the new system," said Arjun Singh, president of Chandigarh Petroleum Dealers Association.
The dealers were worried because of the declining stock value and were demanding an increase in dealer commission, which is between two-three per cent now. According to sources, OMCs are likely to take a call on dealer commission by June 30.
"Public Sector OMCs are taking steps to establish an appropriate mechanism for conveying the prices to consumers every day, including daily publishing of the prices in newspaper on a daily basis, prominent displays of prices at the retail outlets, sending of price-related data/SMS from the centralised locations, mobile apps etc," the IOC statement added.
Photograph: Danish Siddiqui/Reuters