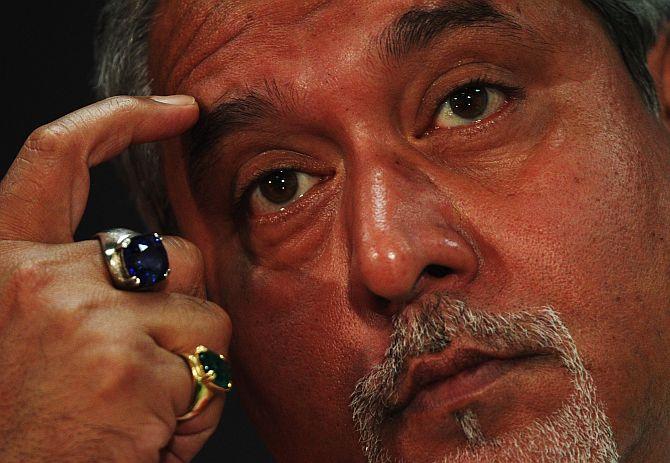 UB Holdings and its chairman, Vijay Mallya, the former majority equity holders in United Spirits (USL), have been denied the right to nominate an additional independent director on the board of the latter.
Diageo, the London-headquartered spirits multinational, which now holds 54.78 per cent stake in USL, said it had formally enforced this, in line with an earlier agreement.
The development comes after the UBHL/Mallya stake fell below five per cent. In a board of 12 members, of which four are stepping out, Mallya will not have anyone from the UB Group to support him on the board of USL.
He gets the right to nominate only one director and has opted to exercise that by nominating himself.
Even this right will vest with him only till he holds one per cent stake in USL and as long as he continues to control UBHL.
UBHL and Mallya have been fast losing stake in USL as the lenders to the UB Group have been encashing the pledged shares of United Spirits, for the Rs 7,000-crore of unpaid loans taken for now-grounded Kingfisher Airlines.
Mallya and UBHL now hold a little over 3.3 per cent in USL. With the support of Diageo, Mallya also got re-nominated as chairman of the board.
"UBHL remains entitled under (our) agreement to nominate one director to the USL board, subject to it continuing to hold at least 1,307,950 shares in USL and Vijay Mallya continuing to control UBHL. Diageo's contractual obligations to support Vijay Mallya continuing as non-executive director and chairman of USL are subject to these conditions, as well as the absence of certain defaults by UBHL or Vijay Mallya," Diageo announced.
Diageo said it continued to be entitled under the said agreement to appoint its nominees to the roles of chief executive officer and chief financial officer at USL.
And, to nominate and recommend directors to the USL board, subject to the overall composition meeting the applicable requirements of Indian regulations.