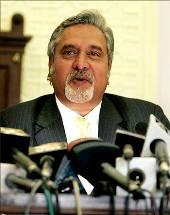 Close to six months after signing a landmark deal with Diageo, the global spirits major, liquor baron Vijay Mallya is preparing to make a 10 per cent preferential allotment in his flagship company, United Spirits, to the former.

This is a sequel to the tepid response by the public shareholders of USL to the open offer by Diageo.

The latter got just 0.44 per cent of the intended 26 per cent of equity.

It is understood the preferential allotment of 10 per cent will happen before May 26, for which Diageo will be paying Rs 2,094 crore (Rs 20.94 billion).

After this, Diageo's move to acquire a further 17.4 per cent stake for Rs 3,632 crore will depend on what the judge at the Karnataka high court will decide, after hearing winding-up petitions on UB Holdings, the parent company of Mallya's group, filed by unsecured creditors of his dormant Kingfisher Airlines.

As part of the multi-pronged Rs 11,165-crore agreement between Diageo and Mallya in early November 2012, the former was to get 12.8 per cent stake from UBH's holdings in USL.

And, another 6.5 per cent by buying treasury shares in USL.

"At the end of all arguments at the Karnataka HC last week, the judgement has been reserved. We are hoping it will not be delayed much," senior advisors for the UB Group told Business Standard.

"There is strong opinion in legal circles that UB Holdings is not a fly-by-night
operator."
The share purchase agreement is understood to be valid till six months after the open offer, which concluded on April 26.
UBH, in an effort to seek the HC's nod to sell its shares to Diageo, had said it would furnish a deposit of Rs 100 crore (Rs 1 billion) and that it would be able to clear the dues towards the unsecured creditors after the transaction with the global major.
As and when Diageo gets to the 27.4 per cent mark in India's largest spirits company, USL, the latter's board has agreed to vote in favour of the former's decisions, even without the former (Diageo) getting 50.1 per cent control.
Even as Diageo is waiting to take charge of managing USL, it is understood to be actively working with Mallya on addressing the concerns of the Office of Fair Trade in London over majority control of Whyte & Mackay, a subsidiary of USL in Scotland.
According to industry observers, Diageo might have to offload majority stake in Whyte & Mackay to clear this hurdle and steps are being taken in this regard.
Advisors to the UB Group have, however, indicated there is around six months to address that issue, after the closure of the deal in India.