Global logistics firm DHL today said its supply chain division plans to invest 100 million euros (about Rs 6.4 billion) over four to five years to set up eight warehouses and new transport facilities in the country.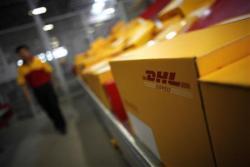 "DHL is strongly committed to investing in markets of growing importance. The investment will help us to meet future demand," DHL supply chain chief executive for Asia Pacific Paul Graham told reporters.
The company will have new facilities in eight cities - Mumbai, Gurgaon, Delhi, Bangalore, Nagpur, Chennai, Kolkata and Ahmedabad - and will add an additional 5 million sq ft of warehousing space to its existing 4 million sq ft.
Currently, the supply chain unit of Deutsche Post DHL operates close to 103 warehouses across 50 cities in the country.
"The investment of Rs 640 crore (Rs 6.4 billion) is spread over next four to five years. This is a long-term plan. It is a continuous process for us," DHL supply chain India chief operating officer Vikas Anand said.
The company also plans to double the headcount in the country from 5,000 to 10,000 employees by 2015. It also plans to have 30 new transport tranches in the country by 2013.
The firm has free trade warehousing zone in Chennai, and Anand said it will have a similar warehouse in Mumbai.
Free trade warehousing zone are areas to create trade related infrastructure to facilitate the import and export of goods and services.