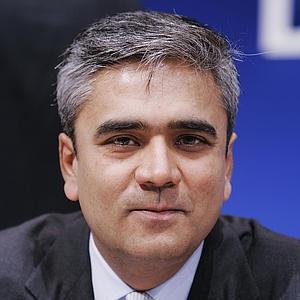 German lender Deutsche Bank on Thursday issued a statement backing its India born co-chief executive officer (CEO) Anshu Jain, denying reports he might be removed from his current position. A magazine had reported the lender was considering a replacement for Jain, if he was implicated in an ongoing investigation into currency manipulation.
"We are pleased that Anshu Jain is our co-CEO, and he continues to enjoy the bank's full support. As we said previously, any rumour to the contrary is categorically false and irresponsible," a spokesperson of Deutsche Bank said in an e-mailed statement.
Last month, the German lender said it was co-operating with regulators in the global foreign exchange probe. The magazine claimed former UBS chief financial officer John Cryan was being considered as Jain's replacement.
But the bank said that there were no such plans. "Under Anshu's leadership and that of his fellow co-CEO, Juergen Fitschen, the bank has implemented a three-year strategy that, while still only halfway through, is beginning to yield powerful results. We are building the foundations for a sustainable, strong global universal bank, while, like our peers, resolving legacy issues," the statement read.
Jain became the co-CEO of Deutsche Bank on June 1, 2012. He and Fitschen have introduced a three-year strategy that aims to cut cost and improve earnings.
In 2013, the core operating performance of the bank was close to its best ever at Euro 4.8 billion. The cost base has declined by eight per cent to Euro 2 billion and cost-to-income ratio has fallen below 65 per cent.