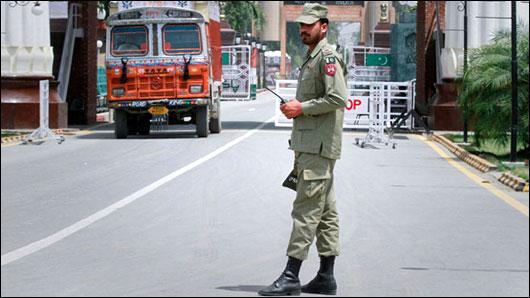 Cross border trade between India and Pakistan remained unaffected in Jammu and Kashmir despite the surgical strikes by the army across the Line of Control, with 26 trucks crossing over to Pakistan-occupied Kashmir and 13 from there reaching the Indian side.
As the state administration went into a huddle with army officials discussing possible evacuation of the locals from villages on the border amid heightened tensions between the two countries, trucks carrying goods from India crossed Salamabad checkpost in Uri on way to the PoK.
Similarly, PoK authorities said 13 trucks with goods including embroidery items crossed over into Salamabad from Pakistan-occupied-Kashmir.
After necessary documentation was completed, the cross over of trucks started at 2 pm and was completed by 4 pm, officials said.
They said Indian trucks carried chilli seeds, embroidery material, cumin seeds and black cardamom, while the trucks from PoK came with almonds, dried dates and mangoes.
Uri, located 102 km north of Srinagar, is one of the last Teshils in Baramulla district of north Kashmir.
It was in news recently after four militants of Pakistan-based Jaish-e-Mohammed carried out a suicide attack on army camp killing 18 soldiers on September 18.
Tension between India and Pakistan has been increasing since then. In the wee hours of today, India said its troops had carried out surgical strikes inside PoK and destroyed terrorists launch pads located in that part of Kashmir.
The trade between the divided parts of Kashmir resumed on Tuesday after nearly two months as Pakistani traders decided to suspend the trade to protest civilian killings in the valley as a mark of "solidarity with the people of Kashmir".
At least 21 items, including eatables, garments and handicrafts, are traded on the twin routes -- Srinagar-Muzaffarabad in Kashmir and Poonch-Rawalakote in Jammu -- on which around 50 trucks ply for four days a week.
The trade between the divided parts is considered as the second major Confidence Building Measure after the launch of historic bus service between Srinagar and Muzaffarabad on April 7, 2005.
Although agreed upon by India and Pakistan in 2004, the trade became a reality on October 21, 2008.