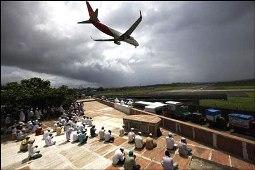 GMR Infrastructure, the Bengaluru-based publicly held infrastructure developer, is exploring an option to bid for a $400-million airport upgradation project in the Philippines.

Last year, the Philippine government had invited bids to upgrade the Mactan-Cebu International Airport, the country's second busiest airport.

As part of this, GMR Infrastructure has formed a 51:49 joint venture with a publicly held company -- Megawide Construction Corp.

Sidharth Kapur, chief financial officer of GMR Infrastructure's airport arm, told Business Standard the company has just come to an understanding with Megawide for an expression of interest for the airport project and more should not be read into this.

"It's still pretty early days. We have shown expression of interest for various projects across the globe, but not necessarily went to bid. We are similarly exploring various options," said Kapur.

If GMR goes on to win this project, it will have to infuse close to $200 million.

In such projects, usually, the equity will be leveraged to as much as three times.

GMR Infrastructure's bid for another airport project comes a few months after it was unceremoniously asked to give up on a $500-million airport upgradation project at Male over alleged irregularities during bidding.

The matter is under arbitration in Singapore and GMR is understood to be claiming as much as $800million as compensation.

GMR
Infrastructure currently manages airports at New Delhi, Hyderabad and Turkey.
For the nine-month period ending December 31, 2012, the airport arm earned revenues of Rs 3,300 crore (Rs 33 billion) and posted losses of Rs 71 crore (Rs 710 million).
The Mactan-Cebu International Airport currently has a capacity to manage close to six million passengers annually and the upgradation of this project is expected to take the capacity substantially higher.
The government had initiated a build-operate-transfer project and will be granted a 20-year concession.
GMR's bid for this airport project comes as a surprise, during a phase when the company is aggressively looking to put in place an 'asset light, asset right' strategy, as it is creaking under debt.
GMR Infrastructure is leveraged more than three times under a debt of close to Rs 37,000 crore (Rs 370 billion) and has been over the past two months looking to offload a majority stake in assets.
As part of this, during the past month, GMR raised as much as Rs 2,500 crore (Rs 25 billion) by divesting 74 per cent stake in a highways project, while totally exiting a power project in Singapore.
Due to the high levels of debt and revenues not flowing in as expected from its power projects and the slow uptake of the airport vertical, GMR Infrastructure has been in the red for most part of the last eight quarters.
The company for the nine-month period ended December 31, 2012 doubled its net loss at Rs 491 crore (Rs 4.91 billion) on revenues of Rs 6,265 crore (Rs 62.65 billion), which grew by 11 per cent.