A report by parliamentary standing committee on commerce noted that Indian industry was getting decimated by China dumping its cheap products in India.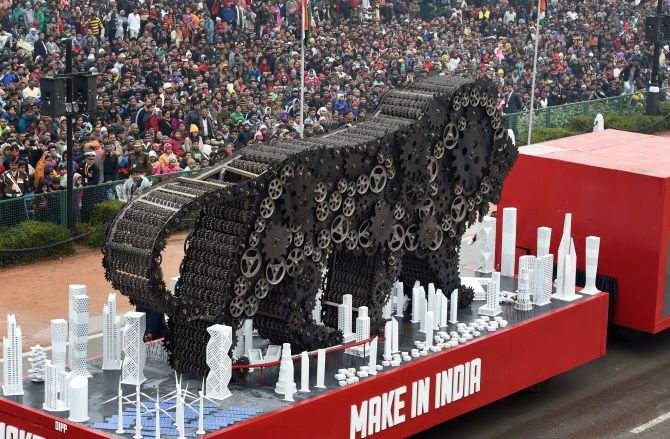 A parliamentary panel has said the Narendra Modi government's flagship Make in India programme has failed to ensure that the Centre, state governments and public sector undertakings purchase products manufactured in India, and these entities have continued to buy Chinese goods.
In its report on the 'Impact of Chinese goods on Indian industry', tabled in the Rajya Sabha on Thursday, the parliamentary standing committee on commerce noted that Indian industry was getting decimated by China dumping its cheap products in India.
The committee, headed by Shiromani Akali Dal Rajya Sabha member Naresh Gujral, recommended to the government that it give "complete protection to Indian industry against any illegitimate, protectionist, and unfair trade practices of any country."
The committee expressed concern at Chinese bulk drugs, bicycles, toys, steel, solar panels, textiles, firecrackers and other products pushing Indian manufacturers of these goods to the brink.
It, however, also noted how differential duty imposed on mobile phones and implementation of phased manufacturing programme has resulted in reduction of imports of handsets from China. It recommended India take similar measures for other industries which are getting impacted.
The committee noted that the Modi government's public procurement order, issued in June 2017, as part of Make in India, to promote Indian manufacturing has not been implemented. It said that even after a year of the order, the preference for Chinese products by government agencies, PSUs, and state governments has not waned.
Stakeholders informed the committee that government tenders and procurement processes suffer with restrictive and discriminatory clauses being imposed against domestic manufacturers and suppliers, while Chinese products do not face such obstacles.
The committee observed solar imports from China contain toxic elements, but India has no quality standards in place to check their entry. It said India was one of the major exporters of solar products to countries like Germany, France, and Italy between 2006/07 and 2011, but exports from India are now at a standstill and its domestic industry hurting because of China dumping its products here.
The committee said the dumping of Chinese solar panels has led to a loss of nearly 200,000 jobs in India as half of its domestic industry capacity remains idle. The committee termed it a "shocking" development. The panel said China's dumping prices for solar products in India were lower than the prices at which it sells in Japan, Europe, and the US.
The committee said Chinese products are certified and registered quite easily and faster by India's Bureau of Indian Standards, while Indian products exported to China suffer delays and high fee for getting certified and registered.
"The committee deprecates this situation. It finds it unfortunate that in the name of ease of doing business, we are more than willing to give market access to Chinese goods, which is destroying our manufacturing, while China is smartly protecting its industry from Indian competition," the committee said. It recommended that the BIS must also reciprocate in the same manner.
The panel said the government should learn from the US and the EU in being more proactive in taking trade defence measures, as provided by the World Trade Organization, and impose trade restrictions on import of such Chinese goods that have caused erosion of manufacturing capacity.