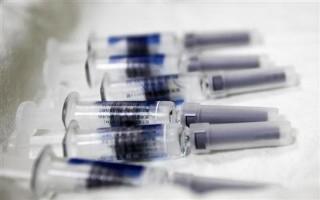 French drug major Sanofi's dengue vaccine discovery could open a $-1 billion opportunity in India alone.
The Paris-based global drug giant announced last week that it would have the vaccine available by the first half of next year.

According to a report by Brandeis University scholars, dengue, a mosquito-borne viral disease, has been estimated to be a billion-dollar burden every year in India, with no specific treatment. It is a health priority in many countries of Latin America and Asia.
The World Health Organization estimates up to 100 million infections yearly, of which about six mn cases are from India.

Sanofi Pasteur, the French drug maker's vaccine unit, would file for registration and subject to regulatory approval, the world's first dengue vaccine could be available by the second half of 2015, the company has said.

The report says the number of cases is almost 300 times higher than government figures.
"Between 2006 and 2012, India reported an annual average of 20,474 dengue cases.
"Our results suggest that after correcting for under-reporting, India had nearly six mn clinically diagnosed dengue cases." The report puts the medical cost for dengue per annum at close to $550 mn in India.

Stephan Barth, country head, Sanofi Pasteur, says: "Over recent months, we have seen a worrying increase in cases, putting a huge strain on health care systems. India is part of Sanofi Pasteur's global development strategy for the dengue vaccine."

The results of the final stage of the clinical study reportedly demonstrate that the vaccine shows a 95.5 per cent protection against severe dengue and 80.3 per cent reduction in the risk of hospitalisation.

While India itself would be a big opportunity for Sanofi on the vaccine, the opportunities elsewhere are also handsome. Brazil, Australia and Southeast Asian countries are also hugely affected by the disease.

Sanofi recently made headlines after dismissing its first non-French chief executive, Chris Viehbacher. Serge Weinberg, chairman of the board of directors, was appointed interim chief till a successor was finalised. According to reports, some of the best known names in the pharma world are in the race for this job.

BATTLING DENGUE
Dengue, a mosquito-borne viral disease, has been estimated to be a billion-dollar burden every year in India, according to a study
It still does not have any specific treatment
WHO estimates up to 100 million infections yearly, of which about six million cases are from India
The image is used for representational purpose only; Photograph: Reuters