Recovery seen in Q4, companies continue to focus on enhancing cash flow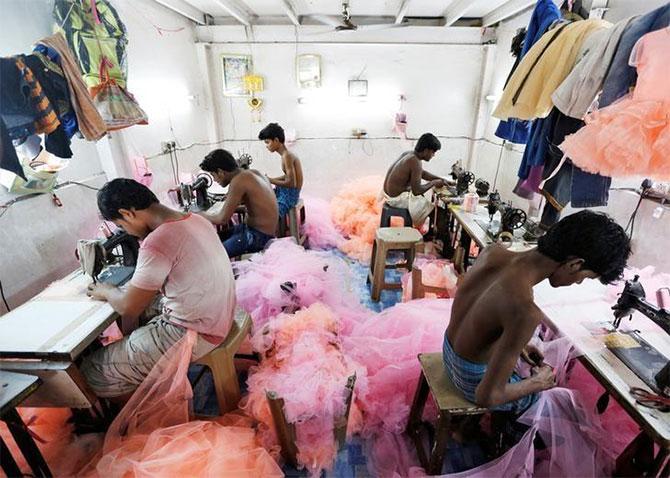 After a strong start this festive season, textile and apparel manufacturers and retailers suffered a sharp contraction in demand due to the liquidity crisis following demonetisation of high value currency notes in November 2016.
If the latest study by Edelweiss Securities is an indication, India's leading pure fashion and lifestyle company, Aditya Birla Fashion and Retail (ABFRL), has lost Rs 100 crore (Rs 1 billion) in sales across all its textile business verticals due to demonetisation.
The producer of India's most admired apparel brands such as Louis Philippe, Van Heusen, Allen Solly, Peter England and Pantaloons has posted 4.8 per cent growth in revenue (y-o-y) and 8.8 per cent dip in EBIDTA.
"ABFRL saw a strong start to the festive season till first week of November 2017, after which the growth trajectory was largely impacted by demonetisation. The wholesale channel has largely reverted to normal in Q4FY17 and up-stocking should start in Q1FY18, resulting in better growth.
The company has reduced working capital by Rs 50 crore (Rs 500 million) compared to FY17 start, and has increased inventory turns.Store rationalisation is largely complete. Anchored by revival of Madura and Pantaloons, we are confident of a strong growth trajectory coming back starting Q1FY18," said Abneesh Roy, analyst with Edelweiss Securities.
The situation in branded fabric and fashion design leader, Raymond Ltd was similar. The company said in an investor presentation available on the Bombay Stock Exchange website that its branded textile segment declined during the October-December 2016 quarter mainly due to lower sales volume following demand contraction.
Raymond's wholesale and MBO (management by objectives) channels were affected most due to the cash crunch.
Raymond's branded apparel segment, however, grew in single digits following a recovery in retail apparel sales. The company also opted for cost optimisation initiatives, apart from renegotiating with vendors for credit period extension.
Sameep Kasbekar, an analyst with Emkay Global Financial Services Ltd, said the 18 per cent decline in the revenue and 33 per cent fall in net profit of Monte Carlo Fashion's for October-December 2016 quarter were "below estimates".
"While inventory build-up and demonetisation impacted the quarter, there are indications of retail channel inventory declining by 10-15 per cent following liquidation in Q3FY17. This bodes well for Monte Carlo. Restocking of inventory in the retail / wholesale channels, increased penetration and product diversification will drive growth going forward," said Kasbekar.
Following two consecutive years of weak winters, there was substantial build-up of inventory in the wholesale channel. Accumulation of inventory coupled with demonetisation impacted the MBO channel resulting in a decline of 23 per cent y-o-y to Rs 160 crore (Rs 1.6 billion).
Monte Carlo Fashions expects to report a y-o-y decline in revenues for FY17, but remains focused on growing its cotton segment by penetrating the west, south and central regions of India.
Demonetisation blues did not spare even synthetic textiles manufacturers. Indo Rama Synthetics, India's largest dedicated polyester manufacturer, posted an over 400 per cent increase in its losses during the October-December 2016 quarter to Rs 37.95 crore from a mere Rs 7.75 crore in the corresponding quarter last year.
Its revenue, however, reported a marginal decline to Rs 623.92 crore (Rs 6.24 billion) during the October-December 2016 quarter from Rs 663.25 crore (Rs 6.63 billion) in the same quarter last year.
"The synthetic textiles industry witnessed a sharp increase in oil prices in the last three months and consequent increase in raw material prices such as PTA and MEG. But because of demonetisation impact, the increase in the price of raw material could not be passed on to customers.
As of now, with some improvement in financial markets and also increase in cotton prices the cost is being passed on. Also there was sizeable drop in volume terms immediately after demonetisation, leading to negative financial impact which is now slowly getting back to normal.
There has been dumping of polyester fibre from China & other countries for more than one year which has been putting pressure on prices and impacted the margin," said O P Lohia, Chairman & Managing Director, Indo Rama Synthetics.
Textiles and apparel manufacturers and retailers eagerly await implementation of the Goods and Services Tax (GST) for uniform pricing of goods across the country.
Photograph: Danish Siddiqui/Reuters