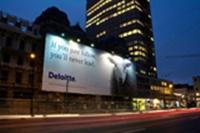 Global consulting firm Deloitte on Tuesday said it is bullish about the growth of its businesses in India and plans to hire over 4,000 people in the next three years.
"At present we have over 11,000 employees in India we plan to take this beyond 15,000 over the next three years. Our India business has given the strongest performance last year despite the downturn and we remain optimistic about this market and will continue to invest in it," Deloitte Touche Tohmatsu CEO Jim Quigley told reporters.
Last year, Deloitte had about 8,500 employees in India.
"We are upbeat about India as it continues to be a huge revenue driver for Deloitte. We saw a 30 per cent growth in revenue in our India business last year," Quigley added.
Deloitte's hiring plans are in sync with technology firms Accenture and Infosys BPO which are also upbeat about their recruitment program for next year.
On Monday, Consultant Accenture said it aims to shore up its staff strength by 8,000 by next year, mainly in analytics space. While, Infosys BPO, the back-office unit of IT firm Infosys Technologies would employ 1,500-2,000 people by the end of the current fiscal.
"We plan to hire 2,000 people in the next four-five months or by the end of this fiscal. Currently we are 16,000 people in India," Infosys BPO CEO Amitabh Chaudhry had said.