Auditor Deloitte flagged three transactions, including recoveries from a contractor identified in the Hindenburg report, as it issued a qualified opinion on the accounts of Adani Ports & Special Economic Zone.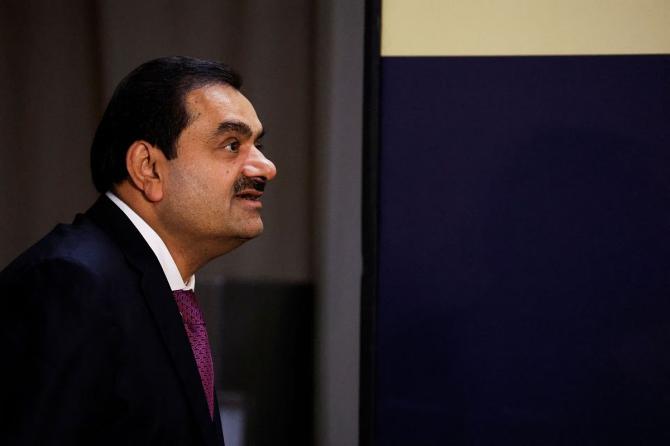 In the auditors' report on the audit of the fourth quarter and 2022-23 financials, Deloitte Haskins & Sells LLP highlighted transactions with three entities, which the company said were unrelated parties.
Deloitte, however, said it could not attest to the company's statement as no independent external examination has been done to prove the claims.
Hindenburg Research in its January 24 report that levelled allegations of fraud, stock manipulation, and money laundering against the Adani group, had also flagged inadequate disclosures of related party transactions.
While the group has denied all allegations, the Supreme Court constituted an expert committee for assessment of the extant regulatory framework and asked stock market regulator SEBI to complete its probe into allegations.
Deloitte said the Adani group did not consider it necessary to have an independent external examination of these allegations because of their evaluation and the ongoing investigation by the Securities and Exchange Board of India (SEBI).
"The evaluation performed by the group does not constitute sufficient appropriate audit evidence for the purposes of our audit," Deloitte said in notes to APSEZ financial statement.
In the absence of the independent external examination and the pending completion of investigation by SEBI, the auditor said it cannot comment if the company was fully compliant with the law and if the transactions flagged may result in possible adjustments and/or disclosures in the financial statement in respect of related parties.
The six-member expert panel appointed by the Supreme Court this month found no regulatory failure or signs of price manipulation in the Adani group stocks in its interim report.
The transactions flagged by Deloitte included engineering, procurement and construction (PEC) purchase contracts with a subsidiary of a party identified in the Hindenburg report.
"As of March 31, 2023, a net balance of Rs 2,749.65 crore is recoverable from this contractor," it said. "Additionally, there were financing transactions (including equity) with/by certain other parties identified in the allegations made in the Short Seller Report, which the group has represented to us were not related parties.
All payables were settled with no dues remaining, Deloitte said in relation to the financing transactions.
It said the group "re-negotiated the terms of sale of its container terminal under construction in Myanmar" to Anguilla-incorporated Solar Energy Ltd. The sale consideration was revised from Rs 2,015 crore to Rs 246.51 crore and an impairment charge was taken. The group told the auditor these are not related parties.
Deloitte said it conducted its audit in accordance with the Standards on Auditing specified under the Companies Act, 2013. "We are independent of the group and of its joint ventures in accordance with the code of ethics issued by the Institute of Chartered Accountants of India."