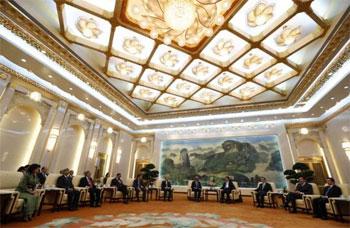 Germany, France and Italy said on Tuesday they had agreed to join a new China-led Asian investment bank after close ally Britain defied US pressure to become a founder member of a venture seen in Washington as a rival to the World Bank.
The concerted move to participate in Beijing's flagship economic outreach project was a diplomatic blow for the United States, reflecting European eagerness to partner with China's fast-growing economy, the second largest in the world.
It comes amid prickly trade negotiations between Brussels and Washington, and at a time when EU and Asian governments are frustrated that the US Congress has held up a reform of voting rights in the International Monetary Fund due to give China and other emerging economies more say in global economic governance.
German Finance Minister Wolfgang Schaeuble said Europe's biggest economy, a major trade partner with Beijing, would be a founding member of the Asian Infrastructure Investment Bank.
A French finance ministry official told Reuters that Paris "confirms France's participation and highlights agreement between Germany, France and Italy" on the matter, first reported by the Financial Times.
The Italian Treasury said the Europeans had agreed to work to ensure the new institution "follows the best standards and practices in terms of governance, safeguards, debt and procurement policies".
French Foreign Minister Laurent Fabius told reporters: "We are indeed considering this idea positively. We are looking at the precise modalities internally in France, then we'll have the opportunity to discuss it with other European countries.
"You have seen that the British have already joined. We have been working on this prospect for quite some time," he added.
The AIIB (Asian Infrastructure Investment Bank) was launched in Beijing last year to spur investment in Asia in transportation, energy, telecommunications and other infrastructure. It was seen as a rival to the Western-dominated World Bank and the Asian Development Bank.
Washington has questioned whether it will have high standards of governance and environmental and social safeguards.
It is seen as a key vector to spread Chinese "soft power" in the region, possibly at the expense of the United States. The World Bank is traditionally run by a US nominee and Washington also has the most influence at the IMF.
China said earlier this year a total of 26 countries had been included as AIIB founder members, mostly from Asia and the Middle East. It plans to finalise the articles of agreement by the end of the year.
High watermark
China's state-owned Xinhua news agency said South Korea, Switzerland and Luxembourg were also considering joining. An Indian government official said New Delhi had also heard that Luxembourg, an EU member, as well as non-EU Switzerland planned to participate.
Chinese foreign ministry spokesman Hong Lei would not comment on which countries had applied, and repeated that the bank would be "open, inclusive, transparent and responsible".
Washington's top diplomat for east Asia signalled on Tuesday that concerns about the AIIB remained, but the decision on whether to join was up to individual nations.
"Our messaging to the Chinese consistently has been to welcome investment in infrastructure but to seek unmistakable evidence that this bank ... takes as its starting point the high watermark of what other multilateral development banks have done in terms of governance," U.S. Assistant Secretary of State for East Asian and Pacific Affairs Daniel Russel said in Seoul.
"Every government can make its own decision about whether the way to achieve that goal is by joining before the articles of agreement are clarified or by waiting to see what the evidence looks like as the bank starts to operate."
Visiting Beijing, European Parliament President Martin Schulz said he welcomed the involvement of four EU nations, but added: "Such new organisations must answer to the requirements of international standards. That is quite important."
A government official in India, one of the countries that has joined, said the members of the AIIB would meet in Almaty, Kazakhstan, on March 29-31 to discuss the articles of agreement.
China has said March 31 is the deadline for accepting founder-members into the organisation.
Japan, Australia and South Korea remain notable regional absentees from the AIIB, although Australian Prime Minister Tony Abbott said at the weekend he would make a final decision on membership soon.
South Korea has said it is still in discussions with China and other countries about its possible participation.
Japan, China's main regional rival, has the biggest shareholding in the Asian Development Bank (ADB) along with the United States. By convention, the Manila-based bank is headed by a Japanese.
Japan is unlikely to join the AIIB, but ADB head Takehiko Nakao told the Nikkei Asian Review that the two institutions were in discussions and could work together.
"We've begun sharing our experience and know-how," Nakao was quoted as saying. "Once the AIIB has actually been established, it's conceivable that we would cooperate."
Additional reporting by Marine Pennetier in Paris, Erik Kirschbaum in Berlin, James Mackenzie in Rome, Ju-min Park in Seoul, Michael Martina and Ben Blanchard in Beijing, Manoj Kumar in New Delhi and Leika Kihara in Tokyo