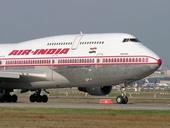 The government's efforts to strengthen Air India through equity infusion may take a final shape next week when a Group of Ministers would discuss its financial problems and the steps the national carrier has taken to cut costs and enhance revenues.
Also, a meeting of the Committee of Secretaries, headed by Cabinet Secretary K M Chandrasekhar, on November 17 will take up two crucial issues facing the civil aviation sector - whether to allow foreign airlines to invest in their Indian counterparts and whether to raise the foreign direct investment cap.
The Committee would also review the overall FDI policy in relation to a host of other sectors as well.
The Group of Ministers, headed by Finance Minister Pranab Mukherjee, would meet for the second time on November 12 to discuss in-depth the financial problems faced by Air India as well as the aviation sector in general.
At its first meeting last month, the GoM had made it clear to the ailing national carrier that any assistance by the government, including equity infusion, should be matched by it through cost-cutting and revenue enhancement measures.
The recommendations of the GoM on financial assistance to the airline would have to be ratified by the Union Cabinet.
The GoM was briefed in the previous meeting on the airline's financial restructuring and turnaround programme, under which it plans to reduce costs by Rs 3,000 crore (Rs 30 billion) and raise revenues by Rs 2,000 crore (Rs 20 billion) annually.