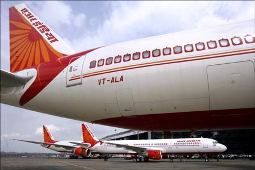 The Department of Public Enterprises, under Heavy Industry Minister Praful Patel, has complained to the Cabinet Secretariat that the debt-ridden Air India has been getting away without signing the target-setting memoranda of understanding with the government.

As per the well-established system, all the 249 public sector units are to sign a memorandum of understanding with their administrative ministries, setting the performance targets which are reviewed at the end of the fiscal year.

Before moving to the Heavy Industries Ministry, Patel was the Civil Aviation Minister.

Exemptions are given in rare cases by a high-powered committee and the Air India has not made any such request, sources said.

"Air India has
never signed the MoU with the government. This is the only PSU which has not followed the MoU guidelines," an official told PTI.
The DPE, which facilitates the target-setting for the PSUs, has brought the matter before the Ministry of Civil Aviation, the administrative in-charge of Air India and also the Cabinet Secretariat, he said adding, "There has been no response. . ."
Burdened with a debt of over Rs 40,000 crore (Rs 400 billion), Air India is finding it difficult to even pay salaries.
"If only it had followed these norms, its condition would not have been so bad today," the official said.
So far, the government has injected Rs 1,200 crore (Rs 12 billion) and Rs 800 crore (Rs 8 billion) respectively in two tranches in 2009-10, raising the airline's equity base to Rs 2,145 crore (Rs 21.45 billion).