Extension of the deadline from December end this year till March 31, 2018, would apply only to those people who do not have Aadhaar and are willing to enrol for it.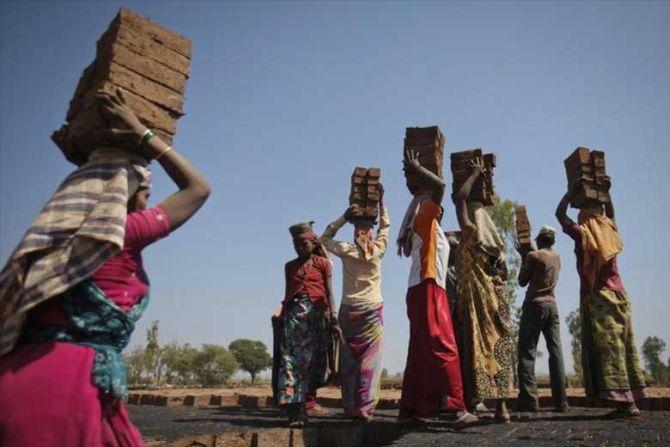 The deadline for mandatory linking of Aadhaar to avail the benefits of various government schemes has been extended till March 31 next year for those who do not have the 12-digit biometric identification number, the Centre told the Supreme Court.
It told a bench headed by Chief Justice Dipak Misra that extension of the deadline from December end this year till March 31, 2018, would apply only to those people who do not have Aadhaar and are willing to enrol for it.
"We (Centre) have decided to extend it till March 31, 2018," Attorney General K K Venugopal told the bench, which also comprised Justices A M Khanwilkar and D Y Chandrachud.
The petitioners challenging the Centre's move to make Aadhaar mandatory for welfare schemes termed the linking of the identity number with bank accounts and mobile numbers as illegal and unconstitutional, while one of their lawyers strongly objected to the CBSE's move to make it mandatory for students to appear for exams.
Venugopal told the court that no coercive action would be taken against those who do not have Aadhaar but were willing to enrol for it and added that they would not be denied the benefits of social welfare schemes till March 31 next.
In a note given to the court, the government has said that "those who have Aadhaar are required to seed/link their Aadhaar with SIM card, with bank account, PAN card and other schemes where section 7 notifications have been issued".
The counsel for the petitioners, who have challenged the Centre's move to make Aadhaar mandatory for these schemes, raised the issue of the mandatory linking of the Unique Identification Authority of India (UIDAI) number with bank accounts and mobile numbers.
Senior advocate Shyam Divan, appearing for some of the petitioners, contended that final hearing in the main Aadhaar matter which is pending before the apex court was necessary as the government "cannot compel" citizens to link their Aadhaar with either bank accounts or mobile numbers.
"This case is crying for final hearing since long," he said, adding that now even Central Board of Secondary Education (CBSE) has asked students to give their Aadhaar for appearing in board examinations.
"What are they (government) doing? School children cannot go to school and give his exams without giving his Aadhaar. Is this the civil liberty we are talking about in the country?" Divan asked while repeatedly urging the bench that a full-fledged hearing was necessary in the main matter.
Senior advocate Anand Grover, appearing for some other petitioners, argued that the move to link Aadhaar with bank accounts and mobile numbers was illegal and unconstitutional.
Divan told the bench that complaints have started coming in that after linking bank accounts with Aadhaar, the accounts were being "wiped out" and there were people who have UIDAI number, but do not want to link it.
"They say extension till March next year will be only for those who do not have Aadhaar and are willing to enrol for it. They cannot compel us to link Aadhaar," he said, adding "they can make a statement that they will not take coercive action against those who don't want to link Aadhaar"
Senior advocate Arvind Datar, appearing for petitioners, claimed that not linking Aadhaar with bank accounts would make citizens liable to be prosecuted under the Prevention of Money Laundering Act.
When the petitioners said earlier the court had said that the main Aadhaar matter would be heard in the first week of November, the Attorney General said "we are ready for hearing".
However, Venugopal told the bench that he would take instructions on certain issues related to Aadhaar and come back to the court. The court asked him to mention the matter on October 30.
During the hearing, the Attorney General referred to the apex court's judgement declaring right to privacy as a fundamental right and said in that verdict, Justice Chandrachud had emphasised that a robust regime for protection of data should be put in place.
Regarding the issue of data protection regulation, the bench observed, "there are large number of working rules and if they will rush, we might have a poor data protection regulation.
Countries across the world are struggling to have a data protection mechanism".
Venugopal said the Justice Sri Krishna committee which has initiated the process of reviewing the entire issue of data protection, had in its October 16 meeting recommended certain issues after detailed deliberations.
In a note handed over to the bench, the Centre has said the committee has recommended that "each working group shall provide specific comments/amendements on clauses of the draft data protection bill circulated by MeitY (Ministry of Electronics and Information Technology).
"They should also suggest changes that may be required, if any, to other allied legislation such as the Aadhaar Act 2016 or the Information Technology Act 2000," the note said, adding that the next meeting of this expert committee would be held on November 7.
Photograph: Reuters
© Copyright 2022 PTI. All rights reserved. Republication or redistribution of PTI content, including by framing or similar means, is expressly prohibited without the prior written consent.