It's a market that has so far been the stronghold of local co-operatives, but Groupe Danone is unperturbed. A year after its split with Britannia Industries, the French foods major's Indian subsidiary, Danone India, is quietly charting plans to grab a significant pie of the flavoured and value-added milk category.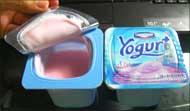 The task ahead is a tricky one. On one hand is the competition from co-operatives which occupy a lion's share of the market with their grassroot level distribution system.
On the other are national players like Britannia and Nestle which have a strong customer connect. However, Danone is banking on its product innovation to make an impact.
Healthy growth
Rs 250 cr Size of the the value-added, flavoured milk market in India
60% Share of Amul
2nd largest block: Saras (Rajasthan), Verka (Punjab) and Nandini (Karnataka)
Other players: Britannia, Nestle
In the first five months of operations in India, the company has launched three products - chocolate smoothies (Choco Plus) in Hyderabad, plain yogurts (Danone Dahi) and a range of flavoured yogurts (strawberry, mango and vanilla), in Pune and Maharashtra. It has partnered with Dynamix, as the co-manufacturer for Danone products in India.
According to industry estimates, the size of the flavoured and value-added milk market is around Rs 250 crore (Rs 2.5 billion). Gujarat Co-operative Milk Marketing Federation, which owns and markets the Amul brands of dairy products, is the leader in the segment with 60 per cent market share.
Other strong regional players include Saras in Rajasthan, Verka in Punjab and Nandini in Karnataka. These regional players cumulatively enjoy the second largest share.
Analysts say that the market is crowded with similar products, which is the oneof the main reasons why most players haven't managed to grow beyond their regional markets.
But Danone is clear about its positioning in this category. "We have launched a chocolate smoothie and not chocolate flavoured milk," says a Danone spokesperson.
"Our operations are fundamentally different from the others. In the dairy sector, other players are focused heavily on the plain milk business, while our focus is on value-added products. Besides, we will not launch products that are not perceived as healthy."
It is not difficult to see why Danone is conscious about launching its products under the health and nutrition label. "The flavoured milk segment is one driven by the well -to-do income class and is therefore focused on the health platform," says V Sridhar, additional director, food and agriculture, Technopak Advisors.
But Danone's former business partner, Britannia Industries, has also adopted the same health route for a variety of its products in recent times. The company has test-marketed Actimind, its functional flavoured milk product, four months back in Tamil Nadu.
"We don't want to be just another player in this market by simply adding flavour into milk. Our objective is to build the functional health and nutritional market," says Vinod Menon, head of dairy business in Britannia Industries.
Britannia's initial foray into this space, however, was not too encouraging. It had launched a flavoured milk called Zip Sip a few years ago but discontinued it later.
"Milk-based products is a tough category to be in," says Sanjay Sharma, CEO of MTR Foods which had experimented with a number of flavours like almond, chocolate, thandai and cinnamon-based milk before deciding to focus on almond for its flavoured milk.
Essentially, every value-added feature becomes crucial in the category as there are as many as a few hundred manufacturers in each region, he says. MTR Foods' use of saffron and almond flakes in its flavoured milk are some examples of value additions taken up by companies in this segment.
It is also a price sensitive market. Danone's chocolate smoothie, Choco Plus is priced at Rs 15 for a 200 ml tetra pack, while Britannia's Actimind is priced at Rs 15 for 150 ml bottle. Market leader Amul's Kool is priced at Rs 13 for a 200 ml bottle and 200 ml tetra pack. Most players are in the Rs 13-18 price range for 175-200 ml offerings.
Analysts say that while the current phase would be about educating the market about the product, the next level of innovations would be crucial for companies. For example, Britannia has already taken the lead in adopting HDPE bottles which are of superior quality, more convenient as opposed to tetra packs and is ideal for storing dairy products for a longer duration.
Danone says that acquisitions will play a part in Danone India's business one way or the other. "We are aware that there are numerous local companies in India. But we will not be able to share any details about any talks for a potential joint venture or buyout. We are continuously evaluating opportunities and are in touch with other players in the industry," says the Danone spokesperson.
Britannia says that is working towards products that could add value to milk in the near future. Amul is in no mood to acquiesce its market share either.
"In order to face competition, Amul will focus on further improvement in quality of its products. It currently offers milk in eight flavours and intends to give thrust on its existing flavours this summer," says a senior Amul executive. Technopak's Sridhar says that the next level of innovations in the flavoured milk business would be about lower calories, higher nutrition and convenience in packaging.